Pope Francis appoints woman to senior role in Secretariat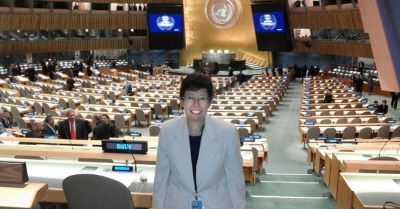 Dr Francesca Di Giovanni at the United Nations. Photo credit: Vatican News/Twitter
 VATICAN CITY – In a historic decision for the Holy See, Pope Francis has appointed a woman as under-secretary for the Secretariat of State, the Roman Curia's equivalent of a Ministry of Foreign Affairs.  Doctor Francesca Di Giovanni is the first woman to hold a management position in the Secretariat.
 Di Giovanni has been appointed under-secretary for the Section for Relations with States, and will take up a new role with responsibility for the multilateral sector, Vatican News reports.  She is currently an official of the Secretariat of State, where she has worked for 27 years.
 The multilateral sector deals with relations between inter-governmental organisations.  Di Giovanni, who has extensive experience in the sector, will work alongside Monsignor Mirosław Wachowski, who will continue to concentrate on bilateral diplomacy, Holy See sources said.
 The Pope's choice of a woman for the role shows him keeping his word to include more women at the higher levels of the Catholic Church.
 Interviewed by Vatican News and L'Osservatore Romano, Di Giovanni said that although the creation of the post had been under consideration for some time, she "never would have thought the Holy Father would have entrusted this role to me."
 Asked about being the first woman to hold such a role, she cited what Pope Francis had said in his New Year's Day homily – "women are givers and mediators of peace and should be fully included in decision-making processes. Because when women can share their gifts, the world finds itself more united, more peaceful."
 "I would like to be able to contribute to the realization of the Holy Father's vision," Di Giovanni said, "with my other colleagues who work in this area of the Secretariat of State, but also with other women — and there are many of them — who are working to build fraternity in this international dimension too… A woman may have certain aptitudes for finding commonalities, healing relationships with unity at heart. I hope that my being a woman might reflect itself positively in this task, even if they are gifts that I certainly find in my male colleagues as well."
 Francis has in the past spoken about the important roles played by women and has stated violence towards women is a blasphemy against God.  However, despite discussion of the issue at the 2019 Amazon Synod, there are no plans in place to allow women to become deacons – much less priests – within the Roman Catholic Church.
 im