Four in hospital after train collision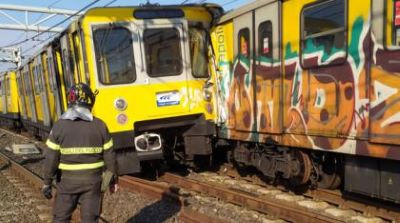 NAPLES – At least four people have been taken to hospital following a collision of Metro trains at Piscinola station, local authorities report.
 Shortly before 8 a.m. Tuesday a train coming from the train depot came onto Track 1 of the station and collided with another train coming from Garibaldi station and heading into Piscinola on the same track. 
 The collision also involved a train full of passengers travelling on Track 2, taking out three doors, Il Fatto Quotidiano reported.
 The most severely injured is one of the drivers, among those now in hospital.  Some passengers received medical treatment at the scene for scratches and shock.  No one is thought to have been seriously hurt.
 Piscinola, in Naples' northern suburbs, is the last station on Line 1 of the Naples Metro.  The entire line was suspended following the incident.
 The carabinieri are now trying to establish whether the accident was caused by a human error or by a technical problem with sensors that may have failed to regulate the access of trains to the interchange, Corriere della Sera reported.  Another explanation could be an engine with diesel fuel leaving liquid on the tracks, which in the past has caused problems with brakes, Il Messaggero said.
 im