N'Ddrangheta members arrested over murdered tobacconist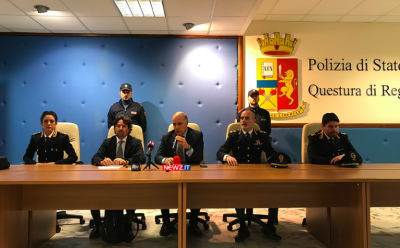 REGGIO CALABRIA – Four members of the Tegano gang are arrested for murder of tobacconist, police spokesperson says.
   On Wednesday morning, a police operation named "Giù le testa" led to the execution of four pre-trial detention orders, issued by the investigating judge against four men belonging to the Tegano gang.
   The state police in Reggio Calabria arrested the alleged members on account of a variety of allegations including attempted extortion, premeditated murder and attempted murder. Pre-trail detention orders were issued against Francesco Polimeni, Francesco Mario Dattilo, Cosimo Scaramozzino, and Giuseppe Antonio Giaramita, although Franco Polimeni and Giuseppe Giaramita were already in detention on account of other anti-mafia investigations.
   These arrests culminate investigations by the DDA into the murder of tobacconist Bruno Ielo, on May 25, 2017. While returning home by scooter, Ielo was killed by two gunshots to the head in front of his daughter. The pistol was left at the scene of the crime.
   The Tegano gang is a territorial branch of the N'Ddrangheta, operating in the Archi district of Reggio Calabria. The Tegano gang's competing commercial interests led them to threaten Ielo with murder if he did not close his tobacconists, but Ielo kept it open. He was remembered by Francesco Rattà during the press conference, as "a man who did his job to get some bread for his family."
   Franco Polimeni has been notified for precautionary custody as the instigator of the crime. In connection with the murder, the three men currently being detained at the Casa Circondariale in Prato are Francesco Polimeni, Francesco Mario Dattilo and Cosimo Scaramozzino, while another, Giuseppe Giaramita, is under house arrest.
jmj