Scientists set to begin Antarctic ice drilling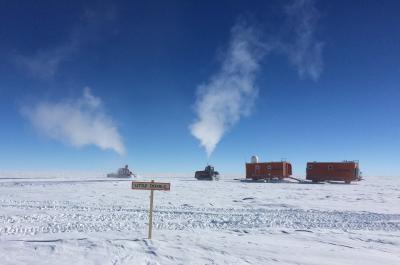 ROME – Construction has begun in Antartica on the 'Beyond EPICA – Oldest Ice Core' project base camp, according to the Italian National Agency for New Technologies, Energy and Sustainable Economic Development.
   The base camp will serve as the location for a team of researchers from 10 European countries to analyse the eastern Antarctic ice sheet over a period of six years.
   Located near the Italian and French Antarctic base of Concordia, the site "Little Dome C" is thought to be of suitable depth, up to 2,730 meters, for conducting ice core drilling.
   Scientists will aim to extract ice cores that yield information dating up to 1.2 million years. Professor Olaf Eisen, who led EPICA's (European Project for Ice Coring in Antarctic) previous project, managed to analyse ice dating back 800 thousand years. Commenting on the new project, Eisen said: "It is the first time that a site for deep drilling has been selected with such a high precision and effort."
  EPICA has confidence that the ice will be far older and clearer this time due to findings made by a team of international scientists using new radar technology. Carlo Barbante, current site coordinator from the University of Venice and the Institute of Polar Sciences of the National Research Council, confirmed the construction of the camp following a 4,000km air and ground radar survey and new temperature measurements.
   "We hope that this core will give us information on the Antarctic climate and the greenhouse gases present during the Middle Pleistocene Transition (MPT), which occurred between 900,000 and 1.2 million years ago," said Barbante.
    Antarctic research has made important discoveries in the past, such as the relationship between air temperature and carbon dioxide concentration, the existence of subglacial lakes and mountains and the discovery of the ozone hole. EPICA's research will help to reconstruct the global climate of the last million years, and will try to answer the question as to why the intervals between glacial changes changed from 41 thousand to 100 thousand years after the ice age, a question that remains unanswered by scientists.
   Drilling will commence during the 2020-2021 Antarctic campaign. Long-term observation of the Antarctic ice sheets has been internationally coordinated for the last 125 years, and continuing to monitor the Antarctic is essential because the ice sheets act as a high-confidence indicator of climate change, according to the World Glacier Monitoring Service. The Beyond EPICA – Oldest Ice Core project is funded by the European Commission, through a 11 million euro grant.
jmj