UK fashion world's links to Milan strong despite Brexit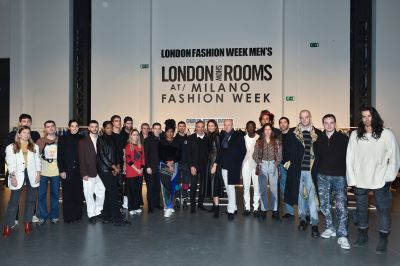 Carlo Capasa, Caroline Rush and designers ahead of London Show Rooms. Photo credit: Camera Moda/Twitter
 ROME – Recent events have highlighted that the fashion world's links between Italy and Britain persist despite Brexit.
 British Fashion Council (BFC) and the Camera Nazionale della Moda Italiana (CNMI) collaborated for the London Show Room event at Milan Fashion Week for the first time, alongside wider collaboration between London's men's fashion week and Milan's fashion week.
 BFC, led by Caroline Rush, and CNMI, led by Carlo Capasa, presented ten British designers and five emerging Italian brands which work in the UK as part of the event – London Show Rooms help designers promote themselves outside London.
 The initiative is clearly considered an anti-Brexit move – Corriere della Sera described it as "Collaboration with London (anti Brexit)."
 "It's a political message of collaboration. Too many frontiers aren't good for the fashion system. Surely, it is also a message from our English friends to say that even with Brexit, they want to keep being part of the (European fashion) system," CNMI head Carlo Capasa said, adding that fashion is a "bridge between nations," Reuters reported.
 Stefano Martinetto, CEO of the London-based company Tomorrow, which supports emerging brands, was particularly thanked by Carpasa for his work in bringing BFC and CNMI together.  Martinetto said "There is still uncertainty over what will happen after 31 January and above all in 2022" but only one aspect of it really concerns him – the possibility that movement of people between the EU and London will become more difficult, Il Sole 24 Ore reported.
 The British Fashion Council has repeatedly stressed similar concerns over the event of a no-deal Brexit, arguing that the movement of talented people and fashion goods between countries would be adversely affected, damaging the British fashion industry.
 Diego Della Valle, chairman of Italian luxury shoe company Tod's, said he thought "for those who have been guests in England for a long time nothing will change," due to Brexit and the links between Milan, Paris and London were strong, Corriere della Sera reported.
 Such links are still clear, as Alexander McQueen's presentation at Milan's men's fashion week, or the marketing of Italian shoe company Doucal to London, show well.  Yet for emerging designers, the impact of Brexit on fashion may still be cause for concern.  Events such as the recent London Show Room in Milan, therefore, could become even more necessary after Jan. 31.
 im