Ex-pope 'not co-author of book on clerical celibacy'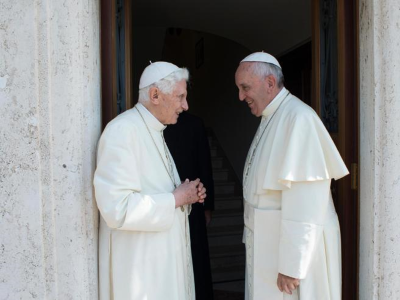 Emeritus Pope Benedict XVI (left) with Pope Francis. Photo credit: Vatican News
 VATICAN CITY – Pope Emeritus Benedict XVI did not co-author the book that caused a storm over clerical celibacy, Vatican sources say.
 Extracts of the book "From the Depths of Our Hearts," described as co-authored by Cardinal Robert Sarah and ex-pope Joseph Ratzinger, shook the Vatican with their strong defence of clerical celibacy, in contrast to the advisory conclusions of the Amazon Synod.
 Yet Benedict's personal secretary Georg Ganswein confirmed to news agencies Tuesday that, on the indication of the Pope Emeritus,
 "I have asked Cardinal Robert Sarah to contact the editors of the book asking them to remove Benedict XVI as co-author of that same book, and to remove his signature also from the introduction and the conclusions," Ganswein said.
 "The Pope Emeritus knew that the Cardinal was preparing a book and had sent his own text on the priesthood authorizing him to use it as he wanted. But he had not approved any double-signature book project nor had he seen and authorized the cover," Ganswein told news agencies.
 Even before this request, Vatican sources close to Ratzinger said he had not co-authored the book.  "Benedict XVI has not written a four-handed book with Sarah" said such a source quoted in La Repubblica.
 Vatican watchers say the frail ex-pontiff – who retired for reasons of ill-health – may have been used or manipulated.  Nevertheless, Ganswein described it as a "misunderstanding, without putting in doubt the good faith of Cardinal Sarah."
 Cardinal Sarah, considered a conservative and appointed head of the Vatican office dealing with liturgy in 2014, has defended himself on Twitter, tweeting letters from Benedict and saying "Attacks seem to imply a lie on my part.  These defamations are of exceptional gravity."
 im