Pope Francis calls for dialogue in speech to diplomats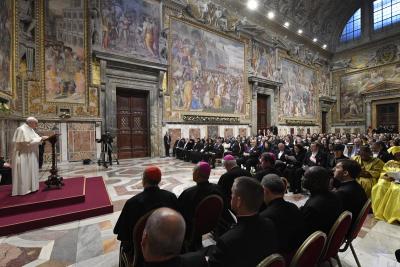 Pope Francis addresses the diplomatic corps. Photo credit: Vatican News/ Twitter
 VATICAN CITY – As tension remains high between the United States and Iran, Pope Francis reissued his call to "keep the flame of dialogue and self-control burning" in his annual new year address to the diplomatic corps.
 In a speech that focussed on the importance of international cooperation in addressing crises faced around the world, the Pope said the situation in Iran risked "putting a strain on the slow process of reconstruction of Iraq, as well as creating the basis of a larger-scale conflict that we would all like to avoid."
 The Pope's annual new year speech to diplomats is traditionally a review of his travels in the previous year, and of areas of emergency and difficulty around the world.
 Among the many crises he mentioned were Syria, Yemen and Libya, the "frozen conflicts" in the Balkans and Cyprus, South American countries such as Venezuela and internal displacement in South Sudan – which, he said, he hoped to visit in the coming year.
 Although he said that the new year invites us to "assume an attitude of hope" he said the new year was not showing "encouraging signs, rather those of an exacerbation of tension and violence."
 He stressed the importance of dialogue, both in overcoming contention in political conflicts and in fostering coexistence and understanding between religions, and spoke about his own visit to the United Arab Emirates, where he signed the Document on Human Fraternity with the Grand Imam of Al-Azhar, Ahmad al-Tayyib.
 More widely, he said the Holy See's aims in diplomacy were "peace and integral human development."
 The pontiff also made an unequivocal statement against nuclear weapons, arguing "True peace cannot be built on the threat of a possible total annihilation of humanity by nuclear weapons."
 He repeated his statement "A world without nuclear weapons is possible and necessary" which he first made in November last year on a trip to Japan in which he visited Hiroshima and Nagasaki, Japanese cities on which the United States dropped nuclear bombs in 1945.
 Returning to a theme he has raised repeatedly, he spoke of climate change and the importance of "care for our common home" – and the failure of the international community to address the problem seriously.  He also said that he was praying for Australia, still being hit by devastating wildfires.
 The last point of his speech was dedicated to violence against women, against which he has already spoken out this year – on Jan. 1, he stated "every form of violence inflicted upon a woman is a blasphemy against God, who was born of a woman."
 He concluded by saying, "It is my hope that the invaluable role of women in society may be increasingly acknowledged worldwide, and that all forms of injustice, discrimination, and violence against women come to an end."
 im