Raggi struggles to solve Rome rubbish problems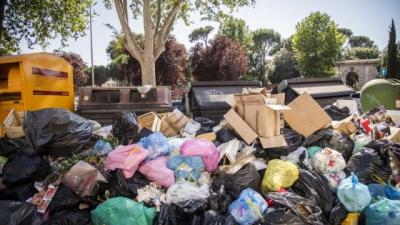 Uncollected rubbish in Rome. Photo credit: La Repubblica
 ROME – The Eternal City's eternal rubbish problem is again causing sharp political debate as mayor Virginia Raggi pushes forward with an unpopular solution.
 Raggi is insisting that a new rubbish tip at Monte Carnevale is going ahead despite the protests of local politicians.
 "Roma Capitale has indicated that that has to be the site," she said.  Local councillors of Rome's Municipio XII, near to Monte Carnevale, have threatened to resign en masse if it goes ahead, along with president of the area Silvia Crescimanno.  Crescimanno and Raggi are both of the Five Star Movement party.
 Raggi first indicated Monte Carnevale as a possible rubbish tip on Dec. 31, La Repubblica reported.  Municipio XII put forward a proposal on Tuesday night to declare the area chosen as unsuitable for a landfill site.
 Raggi is under time pressure, as Colleferro rubbish tip (which receives 1,100 tonnes of rubbish from Rome per day, according to Il Messaggero) will be closing Jan. 15. 
 Meanwhile, Romans are increasingly worried about the rubbish lying uncollected in the streets.  Il Messaggero reports that the Rome carabinieri for the protection of public health were called out on Tuesday due to parents concerned for the health of children going back to school amid uncollected rubbish.
 im