All eyes on Emilia Romagna in run-up to elections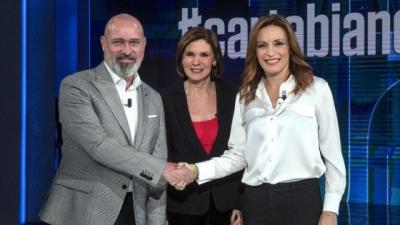 Lucia Borgonzoni and Stefano Bonaccini on TV show Cartabianca. Photo credit: La Repubblica
 ROME – The Democratic Party is fighting to keep political control of Emilia Romagna in upcoming regional elections.
 At the Umbria elections in late October 2019, the historically left-wing area swung right to elect Donatella Tesei, backed by the League, Forza Italia and Fratelli d'Italia.  It is feared the same might be about to happen in Emilia Romagna, again a traditional left-wing heartland, in the elections to be held Jan. 26.
 Right-wing candidate Lucia Borgonzoni's has been somewhat obscured in her own campaign by League leader Matteo Salvini, perhaps because he is more popular electorally, Il Messaggero notes.
 Democratic Party candidate Stefano Bonaccini – who has been president of Emilia Romagna since 2014 – is currently leading in the polls, according to Il Messaggero.  Emilia Romagna is also where the anti-Salvini Sardines movement began in 2019.  The Sardines – who subsequently held anti-Salvini rallies all over Italy – are planning another major demonstration in Bologna for Jan. 19.  Furthermore, the government is due to vote Jan. 20 on authorising a trial for Salvini on charges of illegally detaining migrants.
 Unlike in Umbria, where they supported a candidate of a centre-left coalition including the Democratic Party, the Five Star Movement has its own candidate for Emilia Romagna – Simone Benini, who is polling far behind Bonaccini and Borgonzoni.
 im