European countries call for Libya ceasefire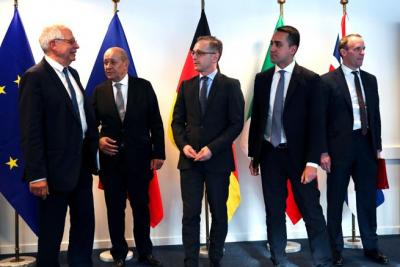 The leaders present at the meeting. First on left: Josep Borrell. Second from right: Luigi Di Maio. Photo credit: Corriere della Sera Twitter
 ROME – The main European countries involved in Libya – UK, Germany, France and Italy – met in Brussels Tuesday to discuss the best way forward as the country falls into crisis.
 They were joined by Josep Borrell, European High Representative.  Following the meeting, Borrell told reporters, "We asked for a ceasefire, a stop to the escalation and to external interference."  He clarified that "interference" referred to the Turkish troop intervention in Libya.
 The meeting was scheduled to be held in Libya but due to risk was held in Brussels. 
 The situation in Libya has become more serious over the past week.  Government forces have launched a counter-offensive to retake control of Sirte, a coastal city which Libyan National Army rebel forces led by General Khalifa Haftar captured on Monday.  Haftar's forces are supported by Russia and the United Arab Emirates.
 Following the talks, the Italian foreign minister Luigi Di Maio called for an end to all interference in Libya.
  "We protect our interests when we ask the EU to be a protagonist," he said.  "Our work from tomorrow concerns how the EU will be cohesive, the EU must speak with one voice."
 Following a meeting with his Turkish counterpart Mevlut Cavusoglu on Tuesday, he said "our objective is to make peace," Corriere della Sera reported.
 im