Glittering reception for Qatari National Day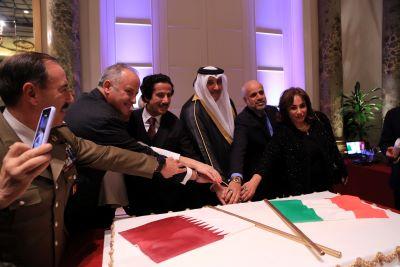 The Ambassador of the State of Qatar H.E. Abdulaziz Ahmed Almalki Aljehni cuts cake at ceremony in Rome Excelsior Hotel to mark National Day of the Gulf state
  ROME -- The Ambassador of the State of Qatar H.E. Abdulaziz Ahmed Almalki Aljehni presided over ceremonies marking the Qatari National Day at the Westin Excelsior hotel in the Eternal CIty at a glittering reception attended by hundreds of guests from the diplomatic community and the Italian official and business worlds.
 During the reception the Ambassador cut a cake decorated with the Qatari and Italian flags after guests stood to listen to the Qatari national anthem.
 Among highlights of the evening was a Qatar Airlines raffle in which guests placed  business cards in a bag to compete for winning flights with the airline, a contest that was won by an Italian Air Force officer attending the reception.
jp