Ex Congressman named new WFP Chief of Staff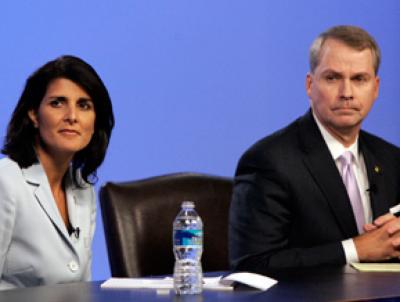 Gresham Barret (right) with Nikki Haley. Photo credit: Politico
Rome – Former U.S. Congressman Gresham Barrett has been appointed the new Chief of Staff of the World Food Programme, taking over from Rehan Asad, WFP Executive Director David Beasley has announced.
 "On the 31st of December, Rehan Asad will depart his position as WFP Chief of Staff after nearly three years of tremendous dedicated service," Beasley said in a memo to staff at the UN agency.  "When I became your Executive Director in April 2017, Rehan agreed to leave his successful private sector career to come to WFP for one year. I knew his strategic business skills, experience and outsider's perspective could help WFP. But I also knew, and many of you discovered, that he had a heart for service. He admires everyone in the WFP family."
"During his tenure here, he has led the effort to take WFP's digital transformation to a completely different and exciting level. He has successfully pushed to strengthen communications and marketing and he has been a major behind-the-scenes player in the continuing work to improve life for WFP staff."
"Like many of you, Rehan has spent countless hours away from his family. He has often represented me in the most sensitive of discussions with key government figures around the globe. The role is challenging but Rehan has done it without complaint and with dedication. We are all grateful for his service."
"Today, I am proud to announce that former United States Congressman Gresham Barrett will be the new Chief of Staff effective January 1, 2020. Gresham has been the Senior Director of the Washington Office for WFP and I know he will do a great job for this organization," Beasley said.
 Former Republican Representative for South Carolina is a conservative who was endorsed by the National Rifle Association.
Barrett, 58, was named one of The Hill's Most Beautiful People on Capitol Hill for 2008, placing ninth and becoming the only congressperson or elected official in the top 10. In 2010 he ran unsuccessfully against Nikki Haley for the Republican candidature for the governorship of the state of South Carolina.
 jp