Pope meets "Solidarity" trade union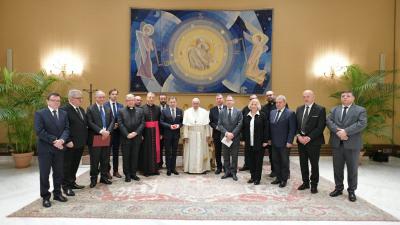 Pope Francis with members of Solidarity. Photo credit: Vatican Media
 VATICAN CITY – Forty years from the foundation of Polish trade union "Solidarity," members of its board of directors had an audience with Pope Francis, Holy See sources said.
 Solidarity, or "Solidarnosc," then run by Lech Walesa, was key to the fall of the Communist regime in Poland at the end of the 1980s.  Founded in 1980 in the Lenin Shipyards in Gdansk, it became the first independent labour union in a Soviet country to be recognised by the state.
 "I congratulate you", said Pope Francis at the audience Tuesday, quoted in Vatican News, "on your service for the common good."
 "The sincere search that individuals and groups make for good, truth and justice is always accompanied by the presence of God," he said.
 He told the members of Solidarity that "the condition for positive changes in social structures is above all a change in mentality, convictions and attitudes, to which the younger generations must be educated," or eventually "new structures themselves will no longer serve the common good, but particular groups, and will become corrupt, heavy and ineffective, and even harmful."
 He concluded the audience, held in the Paul VI hall in Vatican City, with a prayer for effective perseverance in Solidarity's work of assistance and support.
 im