NGOs urge place of safety for shipwrecked migrants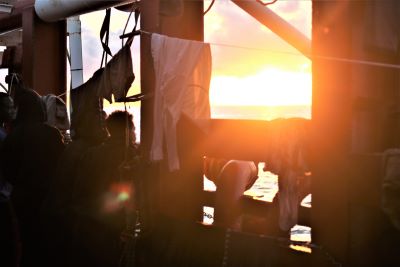 Photo credit: Hannah Wallace Bowman/MSF
 ROME – SOS Mediterranee is calling for "maritime authorities and a coalition of willing European States to urgently mobilise and facilitate the assignment of a Place of Safety to the Ocean Viking," and 60 shipwreck survivors aboard the vessel the NGO said in a press release Tuesday.
 The rescue ship chartered by SOS Mediterranee in partnership with Medicins sans Frontieres (MSF) rescued 60 people on Nov. 28 from an overcrowded, unstable wooden boat in distress off the coast of Libya, said SOS Mediterranee.  There are 19 minors onboard, 17 of whom are unaccompanied and including a three-month-old baby.  MSF have treated several of the rescued people for "recent and significant traumatic injuries" apparently sustained in Libya.
 The Ocean Viking received no answer to its request sent Nov. 29 for a Place of Safety for the 60 survivors from the Libyan Joint Rescue Coordination Center (LYJRCC).  It then sent new requests to the nearest maritime authorities in the area who would be able to help – the Italian and Maltese Rescue Coordination Centres (RCCs).  Ocean Viking "is now in a standby position between Malta and Italy," said SOS Mediterranee, as both RCCs have responded negatively so far.
 "Men, women and children are again stuck on the deck of our ship after being rescued at sea. While they are being taken care of by the medical team, the weather will deteriorate over the coming days. This will unnecessarily prolong the needless suffering of survivors who have already suffered a lot," said Nicholas Romaniuk, SOS Mediterranee Search and Rescue Coordinator onboard the Ocean Viking. "It is urgent to find a solution for the survivors currently onboard and to establish the predictable mechanism of disembarkation that has been discussed several times by European leaders over the past months and has still yet to be implemented".
 On Dec. 1, the Ocean Viking received information that 33 people rescued by a merchant ship off the coast of Libya on Nov. 30th were reportedly brought back to Tripoli by the Libyan coast guard, after the vessel asked for the Ocean Viking's assistance. However, the Ocean Viking was not given authorisation to conduct a transfer and so could not take people onboard.
 Frédéric Penard, SOS Mediterranee's Director of Operations, explained how "the current situation at sea prevents people rescued and the vessels that save them from swiftly reaching a Place of Safety for disembarkation" and the need to support shipmasters who conduct rescues to "facilitate disembarkation of survivors in a Place of Safety as soon as possible." Penard also described the difficulty of finding a Place of Safety: "Libya cannot be considered a Place of Safety for disembarkation... But at the same time, European leaders refuse to accept responsibility for the coordination, including the designation of a Place of Safety, and they keep referring us back to the Libyan coast guard, which is unable to provide a Place of Safety. The European Union's policies here are grossly incoherent. On the one hand, they clearly acknowledge that the situation in Libya is a problem, which clearly disqualifies Libyan ports as being a Place of Safety. But on the other hand, people continue to be sent back to Libya."
 "People continue to flee Libya. The only two options they have is to be taken back against their will or die at sea. Impeding people from seeking safety and impeding lifesaving operations seem to be acceptable options by some decision makers in Europe. 743 people are known to be victims of these policies this year alone," said Romaniuk.
 jp-im