Email unravels Ridolfi denial of Sustainaway Exco ties
FAO ADG Roberto Ridolfi. Photo credit: Dire
 ROME -- FAO Assistant Director General Roberto Ridolfi's son Francesco sent an email to the Fiera di Roma president Pietro Piccinetti last year attaching a draft consultancy contract under which the scion of the senior Italian UN official would garner commissions on sales of sponsorship deals for the EXCO development cooperation fair, FAO sources say.
 "Dear Ing. Piccinetti," Ridolfi Jr. wrote July 16, 2018, in the email seen by the Italian Insider, "as per the agreements ... I send you attached the contract that we made regarding the commercial sales consultancy for EXCO."
 "We want to start the commercial phase with our international contacts before August therefore we we hope that one can sign and conclude as soon as possible (as I hope also for the JV contract)."
 The JV contract was a separate contract giving Francesco Ridolfi's Sustainaway a 10 percent stake in the organisation and overall profits of the event held in May this year in addition to commission he was to claim under the contract discussed in the July 16, 2018, email.
 Against this background, FAO watchers are puzzled by the statement of Roberto Ridolfi's lawyer. Avv. Mario Di Giulio, who in a letter to the Italian Insider last week that we will publish here in its entirety, wrote in tortuous English that:
   "Having Mr Ridolfi always operated in a serious, correct and professional manner: he did not promote any business for his relatives and he is not aware of any profit sharing due (or monetary claim by) Sustainaway in connection with the organisation of the event 'EXCO 2019,' as he has received extensive reassurances of this."
 The Avvocato in his letter on behalf of Roberto Ridolfi also insisted that "furthermore ... Sustainaway has no participation to the Exco brand or trademark nor any right towards Exco and therefore has no link whatsover with the economic results of EXCO."
 In the end Ridolfi junior evidently stopped short of signing the JV contract but "anyway behaved as if he were a partner" in the ExCo project, FAO sources said.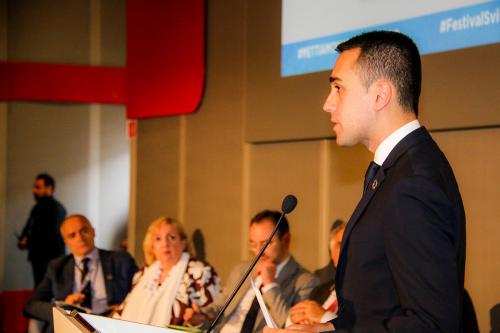 Future Italian foreign minister Luigi di Maio addressing Exco