Far-right extremists arrested in police raid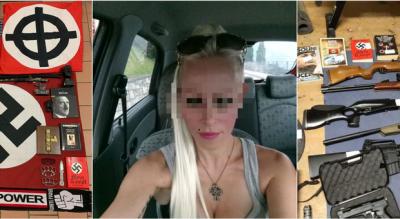 Photo credit: Il Messaggero
 ROME – 19 far-right extremists who allegedly wanted to create a new Nazi party have been arrested, police sources said.
 The extremists were spread out across Italy, Il Messaggero reported.  They allegedly wanted to create an openly pro-Nazi, antisemitic, xenophobic group called the Italian National Socialist Workers' Party, police said.
 Items confiscated in the raid included weapons and explosives as well as Nazi flags, swastikas and books about Hitler and Mussolini.  Leaflets against the parliamentary deputies Emanuele Fiano and Laura Boldrini were also found.
 The leader of the group was a 50-year-old woman living in Padua who was apparently known as "Hitler's sergeant," and who was particularly involved with recruitment and the diffusion of Nazi ideologies, said police sources.  
 Among those arrested was a man who had formerly been in the Calabrian Ndrangheta, had previously collaborated with police and had been involved with the far-right Forza Nuova political party.  He was allegedly the trainer to form militias that were clearly pro-Nazi, antisemitic and xenophobic, and a closed chat called "Militia" was also used for this purpose, La Repubblica reported.
 Another of those arrested was a woman who had previously won an online contest called "Miss Hitler."  Some of the people had on multiple previous occasions referred to an alleged availability of weapons and explosives and had tried to recruit others via social media, La Repubblica reported.
They were in contact with far-right groups in other countries including the UK, Il Messaggero said.
 The police operation which caught them was named "Black shadows."  Led by the legal authorities of Caltanissetta, Sicily, it involved a number of government agencies at national and local level.  The investigation had begun two years ago, La Repubblica said.
 The 19 people are charged with constituting and participating in a subversive association and instigating to commit crime, Il Messaggero said.
 im