Albania hit by aftershocks as earthquake death toll rises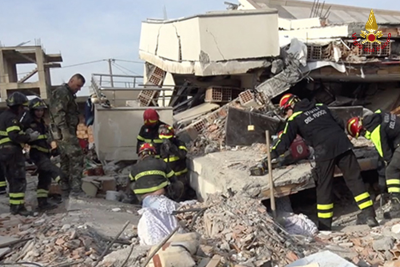 The Italian fire brigade conducting rescue operations in Albania. Photo credit: Vigili del Fuoco
 TIRANA – Dozens of people have been confirmed dead following a 6.5 magnitude earthquake that struck Albania on Tuesday.
 The number of casualties from the earthquake has reached 49 people, government sources reported Friday.  The quake particularly affected the coastal city of Durres.
 750 people have been wounded and the aftershocks of the quake continue, with one on Thursday night reaching a magnitude of 4.8, La Repubblica said.
 In response to a shock of 5.6 on Wednesday, rescue operations were briefly suspended, Il Messaggero reported.
 Italian emergency services have been dispatched to help with the rescue effort. 
 The Italian fire brigade said Thursday that it had found the bodies of a woman still embracing her three children, buried in the rubble.  There are 175 people from the fire brigade's "Urban search and rescue" teams working in the Albania rescue operations, La Repubblica reported.
 Pope Francis has sent 100,000 euros in aid through the Dicastery for Promoting Integral Human Development, a sum described by Vatican News as a "first contribution" and part of a wider effort.
 im