Bonaveri buys Rootstein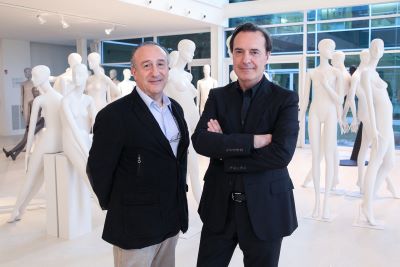 Guido and Andrea Bonaveri. Photo credit: Nemo Monti
 ROME – The Italian company Bonaveri has bought the historic mannequin brand Rootstein in a 1,300,000 euro deal, business sources reported.
 Following a three-way deal Bonaveri acquired the English brand, which since the 1950s has been associated with realistic, high-end fashion mannequins.  Since 1992 Rootstein have been owned by the Japanese Yoshichu Mannequin Company, based in Kyoto, La Repubblica reported.
 Rootstein's mannequins were known for taking some of the most original women in fashion as models for the collections.  Hence, mannequins based on models such as Twiggy.
 It was this unique heritage of models, studies, drawings and moulds which attracted Bonaveri to Rootstein, a press release by Nemo Monti, a public relations and communications company, said. This heritage will now be reworked according to the sensibility and know-how which has made Bonaveri the company of reference of the whole field.
 "Rootstein represents a milestone in the evolution of mannequins," said Andrea Bonaveri, CEO of the company, "having had the ability to give first a shape to the contemporary aesthetic, reproducing in its models and real characters that best embodied the spirit of the time. With this acquisition we realize a dream. It is our intention to pick up this story and bring it to a new splendour, updating it with our aesthetic sensibility and manufacturing ability. This acquisition is an expression of a strategy that has led us to acquire the best player in the world in the realistic mannequin market."
 The law term Fantozzi and Associates took care of the deal to sell Rootstein's assets between Bonaveri and the Yoshichu Mannequin Company.
 The deal, with a total value of 1,300,000 euros, was finalised after a 15-month negotiation and led to Bonaveri's acquisition of the brands, archives, collections and intellectual properties of Adel Rootstein and Rootstein Display mannequins, which was begun in London in the 1950s.
 Bonaveri will incorporate the important archives of Rootstein, which will become the basis for future new collections. According to the Nemo Monti press release, the integration of the Rootstein heritage will take place gradually – the most important historical collections will be reworked with the aim of strengthening the position of Bonaveri as leader in the high range and global player.
 im