FAO executive denies EXCO interest conflict with son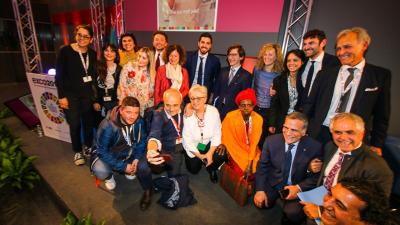 Francesco Ridolfi (bearded, sixth from right) at Exco, with his father Roberto (far right)
 ROME-- FAO Assistant Director General Roberto Ridolfi has strongly denied any conflict of interest between his institutional role and his support of the EXCO cooperation fair held in the Eternal City this year while reiterating an earlier denial by Fiera di Roma that his son Francesco's company Sustainaway had any "link whatsoever with the economic results of EXCO events." Ridolfi senior insisted that he "did not prmote any business for his relatives." 
 Following an Italian Insider article on the subject, Mr Ridolfi's lawyer Avv. Mario Di Giulio contacted Insider requesting a rectification of the article under article 8 of Italian Law no. 47\1948.
 "An article, the contents of which is misleading and damages Mr Roberto Ridolfi's dignity, image and role, was published on Nov. 20, 2019 on the website "The Italian Insider."
 "Mr Roberto Ridolfi, in his institutional role, carries out, among many others, activities aiming at promoting the visibility, standing and impact of public agencies such as FAO. These may include the advice and support on the conception and the organisation of conferences and events concerning development of international cooperation among countries, international organisations and other private and public entitites. Mr Ridolfi always operated in a serious correct and proessional manner; he did not promote any business for his relatives and he is not aware of any profit sharing due to (or monetary claim by) Sustainaway in connection with the organization of the event 'ExCo 2019,' as he has received extensive reassurances on this."
 "Furthermore, as it has been confirmed to him by Fiera di Roma and can be easily assessed through the relevant public register, Sustainaway has no participation to the EXCO brand or trademark nor any right toward EXCO and therefore has no link whatsoever with the economic results of EXCO events."
 "Mr Roberto Ridolfi furrthermore underlines that FAO did not pay any charge in connection with the participation to the event 'ExCo 2019' which was a great success for FAO, government as well as the development community at large."
 "The artifical and misleading reporting of roles by members of his family with totally independent positions and operating in different continents is also extremely damaging and defamatory," Avv. Di Giulio claimed.
 "FInally the article is also damaging the reputation of FAO and the European Union insinuating that the appointment of Roberto RIdolfi in FAO occured under pressure of the European Union."
 Avv. Di Giulio said he "formally and strongly request you to publish immediately this letter of rectifcation of such article and to refrain from publishing other articles untrue and damaging dingity and image of Mr ROberto Ridolfi or his family. I hereby reserve the right to set up the broadest and appropriate legal measures to safeguard my client's interests."
 Italian Insider Editor in Chief John Phillips said: "We are happy to publish the letter of Mr Ridolfi's lawyer for the record. However we stand by our article on the affair which was true and accurate."
 jp