Businessman in Daphne murder probe re-arrested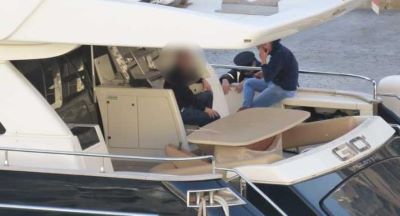 Police search of yacht. Photo credit: The Malta Independent
 LA VALLETTA – Yorgen Fenech, the businessman confirmed as a "person of interest" in the investigations into the murder of journalist Daphne Caruana Galizia, has been rearrested after his release on bail, The Times of Malta reports.  
 After accompanying investigators on a search of the luxury yacht on which he was dramatically arrested early on Wednesday morning, Fenech was released on bail on Thursday, police sources said.  He was re-arrested on Friday, and is now back in police custody, The Times of Malta said.
 Investigators were seen on the yacht on Thursday evening along with officials from Europol, and again on Friday morning, The Times of Malta reported.
 Maltese prime minister Joseph Muscat was expected to make a statement about the case Friday.  The investigations into Caruana Galizia's murder have shaken Malta, as was seen from angry protests on Wednesday night demanding the resignation of politicians alleged to be corrupt.
 Opposition politicians are calling for the resignation of the prime minister.
 On Friday morning, Muscat stated "I do not shelter anyone" in response to concerns that he might have a conflict of interest in the case.
 Dutch MP and Council of Europe rapporteur Pieter Omtzigt used a series of Twitter posts to outline his concerns about Muscat's interests and influence on Friday morning.  "The suspicions of personal & political interest are too strong, and the potential influence of the Prime Minister of Malta on the criminal justice system is too great," he said.  Omtzigt previously authored a Council of Europe report calling for a public enquiry into Caruana Galizia's murder, The Times of Malta reported.
 "Given his associations, shouldn't PM Muscat be keeping his distance from all of this?" Omtzigt tweeted.
 Meanwhile, "middleman" in the murder case Melvyn Theuma was rushed to hospital on Friday morning.  It is not known if his condition is serious, The Malta Independent reported.
 im