Agreement between Mares Italy and Finnish company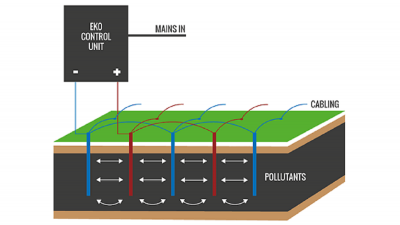 ROME - Italian remediation company Mares S.R.L. is utilizing Eko Harden Technologies' in-situ technology in its soil and groundwater remediation projects, and to sell the technology to other Italian and international environmental projects.
 According to Sami Humala, sales director of Eko Harden Technologies, the agreement represents a significant expansion in the company's EU remediation business.
 "Our EKOGRID technology in Italian remediation projects will now begin to have a deep impact on the country's many polluted sites," Humala comments.
 In Italy, there are currently almost 300,000 hectares of land that requires urgent remediation intervention, including decommissioned industrial sites and gas stations, as well as sites still in operation.
 "In many locations, traditional methods such as dig and dump are neither friendly to the environment nor economically sound," says Francesco Cappelli, managing director of Mares S.R.L.
 "Since entering into the first EKOGRID agreement with Eko Harden Technologies, Mares has had tremendous feedback from our markets on the full potential of this in-situ remediation solution," adds Cappelli, "It is quite remarkable, easy to set up and install, delivers fast results and is truly the solution for our environmentally sensitive time."
 Ekogrid technology has successfully performed soil remediation of organic pollutants at polluted sites in Africa, China, Europe, South America and the United States. These include old industrial sites, petrol stations, parking lots and a wide range of manufacturing plants. EKOGRID has proven highly effective at reducing the content of aliphatic hydrocarbons and crude oil, and also aromic compounds such as PAH, BTEX and chlorinated hydrocarbons.
 gn