Five killed in fireworks factory explosion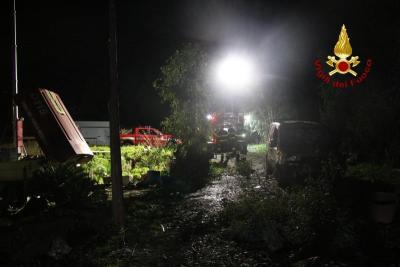 Aftermath of the explosion. Photo credit: Vigili del Fuoco
 PALERMO – An explosion in a fireworks factory store killed five people in the province of Messina, local authorities reported Thursday.
 The explosion, in the town of Barcellona Pozzo di Gotto, took place at 4.45 p.m. Wednesday, the fire brigade said.
 Fire crews pulled one man from underneath the wreckage and he has since been transferred to hospital along with other wounded people.  The son of the owner of the factory is in hospital along with one worker, Bartolomeo Costa, 37, who is in a serious condition.
 The wife of the owner, Venera Mazzeo, 71, was among those who died in the explosion, along with Mohamed Taeher Mannai, 39, Giuseppe Testaverde, 34, Vito Mazzeo, 23, and Fortunato Porcino, 36.
 The victims included workers of an external firm who were apparently present to install iron doors.
 The noise of the two explosions caused panic in the area, local media report.
 Barcellona Pozzo di Gotto authorities have opened an investigation into the explosion.  Witnesses suggest that it was those working to install the doors who were responsible for the explosion, Il Messaggero reported.  The captain of the carabinieri, Giancarmine Carusone, said that from the very first reports it appeared that sparks from the welding machine had come into contact with the pyrotechnic powder.
 im