Red weather warnings as Italy rocked by heavy rain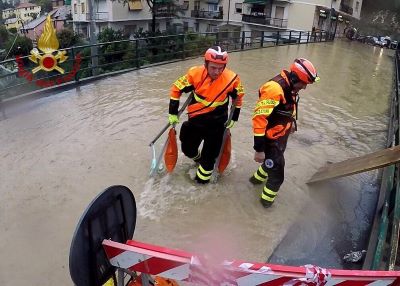 The fire brigade in Liguria. Photo credit: Vigili del Fuoco
 ROME – Further weather warnings were put in place Tuesday and Wednesday as the risk of floods caused by heavy rain and snowmelt increases, local authorities said.
 In Emilia-Romagna, the civil protection authorities put the region under a red alert for flooding until midnight Wednesday.  In the west of the area, red weather warnings were already in place.
 The river Idice, near Bologna, burst its banks Tuesday following another night of rain, local authorities have said.  The town council of Budrio ordered evacuations of the streets nearest the river.  On Wednesday morning, however, the authorities were able to announce that the severe break in the river embankment had been closed.
 Bridges and roads have been closed in Modena as a precautionary measure against flooding.
 Nine regions are under a yellow weather warning, the fire brigade announced via Twitter.  The Veneto region, recently struck by historical levels of flooding, is on an orange alert.
 The fire brigade also reported being called out over 100 times in Liguria, where Genoa is being affected by flooding.
 In Alto Adige, however, the region is slowly returning to normal after days of chaos caused by heavy snow.  Local authorities reported Wednesday that the number of people affected by electricity blackouts was falling and some roads were being opened.  Nevertheless, the Pusteria railway line was damaged after three landslides and is expected to stay closed until Christmas at least.
 im