'Middleman' in Maltese journalist's murder arrested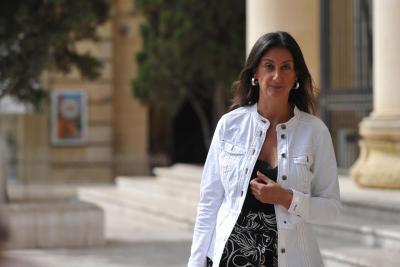 Daphne Caruana Galizia. Photo credit: The Times of Malta
 LA VALLETTA – A man who claims to know the perpetrators of the murder of investigative journalist Daphne Caruana Galizia in an alleged money laundering ring has been arrested in what is evidently a major breakthrough in the investigation of the case, Maltese police said.
 According to Maltese media, the suspect may be offered amnesty by the president of the archipelago in return for turning state's evidence.
 The Times of Malta reports that the man was arrested Thursday as part of a raid targeting an alleged money laundering ring.  He is thought to be a "middleman" between the person who ordered the murder and those who carried out the assassination.  He claims to know who masterminded the crime, which killed the journalist with a bomb in her car on Oct. 16, 2017.
 The man asked for a full pardon, saying that he feared for his safety if he were sentenced to prison, but Maltese prime minister Joseph Muscat is somewhat reluctant to recommend granting him one, The Times of Malta said.  The police, attorney general and prime minister were in discussions about the case Monday, and a cabinet meeting Tuesday was also expected to address the issue, according to government sources.
 Caruana Galizia, 53 at the time of her death, ran and wrote an anti-corruption blog.  The Sunday Times of Malta reported in October that the police are closing in on a businessman whose activities she was investigating at the time of her assassination, and who is believed to be ultimately behind the crime.
 In a speech Sunday the prime minister said that he wanted all the facts about the case to be found.
 Three men – brothers Alfred and George Degiorgio and Vince Muscat – have been charged with actually triggering the bomb which killed Caruana Galizia.  Police are also following a money trail between the middleman and the Degiorgio brothers, The Times of Malta reported.
 Investigators from Europol are also analysing devices owned by the 'middleman' in the hope they will offer further clues about the assassination.
 jp-im