Fire hoses used against anti-Salvini protestors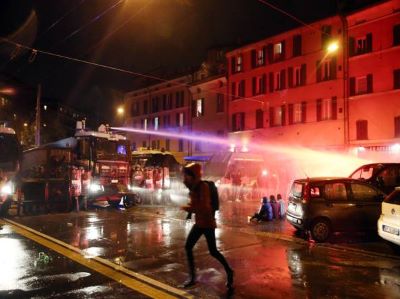 Photo credit: Corriere di Bologna
 BOLOGNA – Scenes of protest unfolded in the Emilia Romagna capital Thursday night, as over 10,000 people came out onto the streets against the League party and the police dealt with one march using fire hoses, police said.
 The leader of the League party, Matteo Salvini, was in Bologna to campaign for the upcoming Emilia Romagna regional elections, which will be held January.  The League was launching their campaign for Lucia Borgonzoni as Emilia Romagna president.
 A demonstration organised by social centres drew almost two thousand people to the Piazza San Francesco.  They chanted slogans such as "I hate the League" and "We are all antifascists." 
 According to La Repubblica, some protesters threw fireworks, as well as objects such as bottles.
 Salvini's event was being held at the Paladozza, an indoor sports arena.  When the protestors got close to the building, the police turned fire hoses on them.
 The Corriere di Bologna reports that when it became clear they could get no further against the fire hoses, the marchers turned back to continue protesting elsewhere, taking with them a group of anarchists.  There were no confrontations between protestors and police.
 A separate, peaceful protest, held in Piazza Maggiore, drew an estimated 12,000 people, according to the organisers.  A group of four 30-year-olds, they planned a protest using Facebook.  They were far more successful than they had hoped – they had asked for a flash mob of 6,000, as Salvini's event was to host 5,570.
 The symbol of the protest was sardines, taken from the image of many fish packed tightly into a box, and many people brought their own sardine signs.
 The crowd chanted "Bologna non si lega" "We are all antifascists" and sang the second world war resistance anthem "Bella Ciao."
 im