Murdered female journalists remembered with music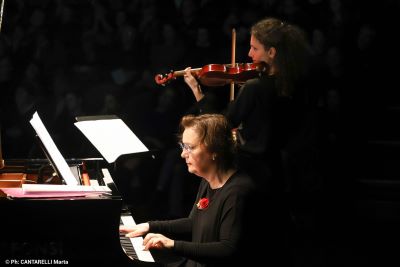 Pianist Luisa Prayer with violinist Misia Sophia Jannoni Sebastianini at In Piena Luce. Photo credit: Marta Cantarelli
 ROME – The 56th Nuova Consonanza festival began Wednesday night in the Testaccio area of the capital with In Piena Luce, an evening of music and readings dedicated to female journalists and campaigners killed in their work.
 Seamlessly interwoven with pieces composed and performed by women were readings from the diaries and letters of women such as murdered journalists Marie Colvin, Shifa Gardi and Ilaria Alpi.
 The idea of In Piena Luce originated with Luisa Prayer, one of Italy's most respected pianists.  She arranged the programme, choosing pieces from the nineteenth century to the present day, in styles ranging from traditional songs to modern violin pieces. 
 Prayer's understated, highly skilled performance was a highlight of the night, especially in her striking rendition of Fanny Hensel Mendelssohn's September (At the river).
 Rossella Spinosa's Madchen – Pocket Kammeroper, dedicated to Ilaria Alpi and performed at In Piena Luce for the first time, was very moving.  For all songs not in Italian subtitles were provided, but for this piece they were almost unnecessary, so clearly evoked was the tragedy of loss.
 The opening piece, Ellen Taaffe Zwilich's Fantasy for Solo Violin, performed in Italy for the first time, pushed the boundaries of violin music in a composition performed with great musicality by Misia Sophia Jannoni Sebastianini.
 The readings and music took care to show the joy in the lives of those it dealt with, as with the song Gracias a la vida, managing to paint complex portraits of the women even in the short time available.
 This was an event which brought home in devastating fashion the tragedy of journalists killed while, and for, exposing the truth. Their words were read by Laura Silvia Battaglia, herself a journalist who has worked extensively in conflict zones.
 There were multiple readings from the diaries of Marie Colvin, the Sunday Times journalist killed while reporting on the siege of Homs, Syria, in 2012.  In January, a U.S. court ruled that Colvin was "specifically targeted because of her profession" by the Syrian government.
 In the last 20 years, about 300 journalists have been killed on the front line.  As Battaglia pointed out in her introduction, although the world pays most attention to "white, western women," there is "an army of local female journalists who risk more, who invest more." 
 The narrative, she said, aimed to present these women too, and so it did, focussing on figures such as Razan Zaituneh, Syrian human rights activist, who has been missing for five years, and Mena Mangal, an Afghan journalist, who was shot and killed in broad daylight on the street in Kabul in May.  She had been a political advisor and a passionate campaigner for women's rights. 
 The focus on Hodan Nalayeh was particularly poignant.  A Somalian journalist who dedicated her life to reporting on positive stories from Somalia, she was killed along with 25 others, including her husband, when gunmen stormed their hotel.  She was pregnant at the time, and her thoughts about children and love were among the most touching of those read at In Piena Luce.
 Battaglia's emotionally charged readings were combined with video clips, images and subtitles to present to the audience the stories of these women, highlighting their bravery and their dedication, and the tragedy of their murders.
 A thought-provoking evening of beauty and sadness, In Piena Luce made a strong statement about the fight for truth and freedom, and opened the Nuova Consonanza festival in stunning style.
 im
Laura Silvia Battaglia in front of an image of Ilaria Alpi at In Piena Luce. Photo credit: Marta Cantarelli