Gomorrah-inspired drugs boss arrested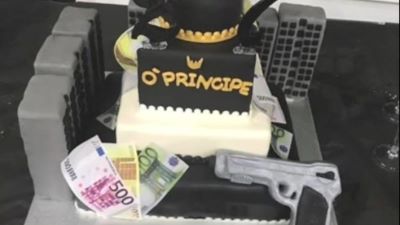 The cake. Photo credit: Roma Today
 ROME – Twenty people have been arrested in a police operation against a drugs gang in the Tor Bella Monaca area of the capital, said police sources.
 Among those arrested were three women and the head of the group, Vincenzo Nastasi, at dawn Monday. 
 The sophisticated drug-dealing organisation was focussed around via dell'Archeologia.  Nastasi, 29, was known in the local area as "Bambo" or "o' principe" after the character in the hit television series Gomorrah, about the Neapolitan camorra.
 He appears to have been keen on such an image.  His 27th birthday in 2019 was celebrated with a Gomorrah cake, complete with banknotes, a pistol and o' principe written on it. 
 In May, the mayor of Naples blamed the Gomorrah series for a crime spike in the city, saying "Symbols of evil are dangerous.  I see many young people who are fascinated by them," to Italian radio station Radio 24.  At least as far as Nastasi is concerned, he may have been right.  Nastasi's style and language were in every way camorra-inspired, said La Repubblica.
 "The image of the iconic birthday cake stands out as representing his role in the local area and criminal capacity," said the preliminary investigations magistrate, Cinzia Parasporo.
 The group's headquarters was a luxury apartment block in via dell'Archeologia, specifically number 64.  Nastasi has a tattoo of one of the via dell'Archaeologia towers, labelled 64, that includes a pusher and a lookout selling drugs to a third person, said the carabinieri in the order.
 The fear Nastasi inspired and the money he made is very real, however.  The investigations of the Tor Bella Monaca carabinieri, coordinated by the Anti-Mafia District Directorate, found that the group was getting 200,000 euros a month from 350 drugs sales a day.  La Repubblica reported that Nastasi ran the gang exactly like a business, with shift-sharing, risk-specific compensation, wage cuts and layoffs.
 For the first time in Tor Bella Monaca, two people "collaborated" with the authorities, giving the investigation useful details.
 The carabinieri arrested Nastasi at dawn Tuesday in a luxurious apartment, although they found only 30,000 euros there, said La Repubblica.
 Rome has seen a crime wave in recent weeks: among other incidents, the killing of Luca Sacchi and the apparent arson attack on the "Pecora elettrica" bookshop have both attracted media attention and speculation that the drugs trade was the motivating force for the crimes.
 im