Earthquake in Central Italy closes schools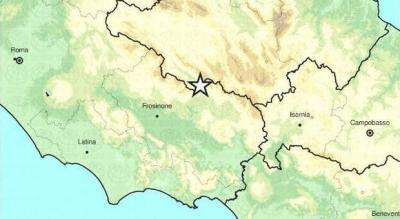 The earthquake epicentre. Photo credit: Il Messaggero
 ROME – A minor earthquake hit the Lazio and Abruzzio areas at 18.35, reported Il Messaggero.
 The National Institute of Geophysics and Vulcanology (INGV) confirmed that the earthquake was at a magnitude of 4.4 and the epicentre 5 kilometres southeast from Balsorano, at the border between the Lazio and Abruzzo regions.  The focus was at only 14 kilometres of depth.
 Around 30 smaller shocks, none exceeding magnitude 3, preceded the quake. 
 No damage has been registered.
 It has been announced that schools have been closed in Ciociaria, Cassino and Balsorano following the quake. 
 In Balsorano and surrounding towns people ran out into the streets, reported Il Messaggero.
 People also appeared in the streets in Sora, Cassino and Frosinone. 
 In Rome, dozens of people called the emergency services.  The quake was also felt in Naples.
 A number of trains have been suspended while officials carry out checks, and the lines between Sulmona-Avezzano, Roccasecca-Avezzano and between Ceprano and Cassino.  Trains on the Rome-Naples line have been redirected or are travelling at slower speed, said the railway network.
 im