Bookshop burned for second time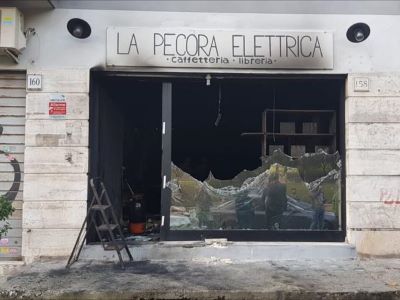 The Pecora Elettrica after the fire. Photo credit: Corriere della Sera (Roma)
 ROME – The "Pecora Elettrica" bookshop-café has been set on fire for the second time, say police sources.
 The fire broke out at approximately 3 a.m. on Wednesday, seriously damaging the interior of the bookshop, which is situated in Centocelle, Rome. 
 The fire appears to have been started deliberately: the carabinieri and the fire service found the burned-out wreck of a motorcycle inside the shop, and a melted air conditioner which was probably used as a fuse after the door and window were forced open, reported La Repubblica.
 "At dawn someone broke open the door, destroyed the windows, threw inside a motorcycle soaked in petrol.  Everything burned," said Danilo Ruggeri, 36, the owner of the shop, quoted in Il Messaggero.  He said he did not know if the shop would reopen:
 "We have run out of money.  We will see if the institutions give us a hand, who knows…"
 The bookshop had been closed since another deliberately started fire on April 25 and was due to reopen Friday, reported La Repubblica.  The pizzeria opposite, Cento55 Pinsa Romana, burned down on Oct. 9.
 According to the Pecora Elettrica's website, the perpetrators of the first fire are still unknown.
 Investigations into the most recent fire have been opened. 
 Although there had been an immediate response to attribute the targeting of the bookshop-café - often described as antifascist - to the extreme right, Il Messaggero reports that the incident is more likely to be linked to drug dealing. 
 According to La Repubblica, investigators suspect that the bookshop and pizzeria may have been targeted because they were the only shops in the area open late at night, and so got in the way of drug dealing.
 The Pecora Elettrica, or Electric Sheep, was much-loved in the area as a lively, always-open centre of culture that had organised hundreds of events a year for both adults and children.  Opened two years before the first fire, it also hosted language courses and provided a place to work.
 After it burned down for the first time, there was a wave of solidarity that through crowdfunding and initiatives helped to get the Pecora Elettrica to the point of reopening – only for it to be targeted again.
 Public figures have come out in support of the bookshop on social media.  A number of politicians have expressed solidarity, including Nicola Zingaretti, president of the Lazio region and head of the ruling coalition Democratic Party:
 "The bookshop will reopen and, if needed, the Region will lend a hand," he said, reported Il Messaggero.
 Mayor of Rome Virginia Raggi described the incident as "worrying" and said that the owners would soon get clarity over what had happened.  Culture Minister Dario Franceschini visited the bookshop and described the fire as "intolerable."
 He said that the state "has the duty to guarantee the free carrying out of commercial activities, above all when it's a culturally important act," reported Il Messaggero.
 im