UNHCR evacuates vulnerable refugees to Italy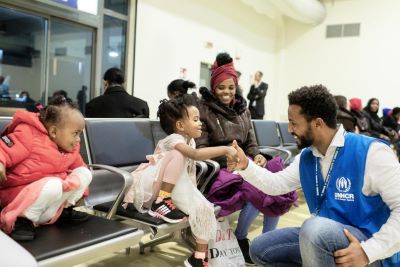 Dawit America Girmay, a UNHCR cultural mediator, entertains an Eritrean child after she arrived in Rome, Italy, on a relocation flight from Niger. Photo credit: UNHCR/Alessandro Penso
 ROME – A group of vulnerable refugees from Eritrea, Ethiopia, Somalia and Sudan arrived in Italy via the Emergency Transit Mechanism in Niger, run by UNHCR, said the UN agency.
 The group of 54, including 23 children of whom 13 are unaccompanied or separated from adults, arrived in Italy on Tuesday.
 Most have been through a long period of detention in Libya, where they had to face violations of their human rights and the growing threat of being caught up in the hostilities there.
 "The refugees in Libya continue to live a terrible situation, facing enormous difficulties in order to survive," said Vincent Cochetel, UNHCR Special Envoy for the central Mediterranean. "By welcoming them to Niger and allowing them to continue their journey to Italy, both countries have shown exceptional solidarity with refugees. However, thousands more need the same support. It is crucial that other countries in the international community come forward offering more places and faster procedures to help us evacuate the most vulnerable refugees safely from Libya."
 This is the second evacuation from Niger to Italy that UNHCR has organised, with 51 refugees arriving in Italy in November 2018.
 im