First international anti-mafia initiative launched in Slovakia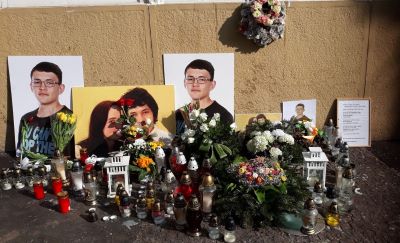 A memory point in honour of the two victims in Bratislava, photo credit MGM
 BRATISLAVA – On behalf of the investigative journalist who worked for the portal Aktuality.sk, Ján Kuciak and his fiancé Martina Kušnírová who were murdered in the town of Veľká Mača, the Head of the Trnava Self-Governing Region Mr Jozef Viskupič, together with the families of the late Mr Kuciak and Miss Kušnírová, with support from the Italian Embassy in Bratislava convenes the First International Anti-Mafia Conference. The event is held on 11 and 12 November in the Ján Palárik theatre in Trnava.
 Two days filled with presentations and considerations on the theme of mafia – the themes of the last albeit unfinished article by Mr Kuciak that was published posthumously. After the murders of Ján Kuciak and Martina Kušnírová nothing in Slovakia was as it used to be: we have seen exposure of fraud and corruption, pressure exerted on small farmers particularly in Eastern Slovakia – one of the farmers was murdered. Slovak businessman Marián Kočner was accused of having commissioned the murder of Ján and Martina. Kočner, who is currently imprisoned for financial fraud, has been engaged for years in dirty business. He has been exerting threat against members of the media and bribing the highest public officials. Along with Kočner, an additional four people have been indicted as members of the murder commando.
 Members of civil society went to the streets, demanding the end of corruption in society and calling for the restoration of the rule of law. People in Slovakia are calling for transparency in public affairs. Freedom of journalism is a guarantee of democracy. Ján was the prime guardian of the truth, and he had paid for it with his and Martina's life. The two young people were merely 27 years old. They believed in European Slovakia.
 For years, the ndrangheta has been left free to grow roots in Slovakia where the drug smuggler Nino Vadalà kept freely developing his illegal businesses, creating a network of enterprises and companies, enjoying his friendship with politicians. Nino Vadalà was recently sentenced in Italy for 9 years and 4 months in prison for international drug smuggling. At the time he was murdered, Ján Kuciak had been following this trail as well.
 The conference will feature, for the very first time in Slovakia, the keynote guest, Mr Federico Cafiero De Raho, Italian Public Anti-Mafia and Counterterrorism Prosecutor. Having had previously served as Prosecutor in Reggio Calabria, Mr Cafiero De Raho is a specialist with years of judicial practice. He currently coordinates all investigations carried out by the Prosecution in Italy. The conference will further feature the founder of the association Libera contro le mafie (est. 1994) Don Luigi Ciotti. In light of constant threat of death by the mafia, he had to resort to be always accompanied by bodyguards. Don Ciotti is the leader of civic protests against corruption and illegal activities in Italy and worldwide. Libera coordinated 1,600 groups dedicated to the dissemination of the culture of the rule of law against mafia, and society committed to it.
 Attorney Enza Rando, Libera Deputy Chairwoman will speak about how to protect, in lawsuits, victims of mafia and their relatives. One of the people who keep bringing the theme to Slovakia, is the TG1 Special Editor Maria Grazia Mazzola. Ms Mazzola published material about the connections of Nino Vadalà in Slovakia. She has also published photographs from the shadowing of Ján Kuciak.  Ms Mazzola has been specialising on mafia for thirty years. She will be chairing the conference and will also give her own paper. Additional speakers include the attorneys of the Kuciaks and Kušnírs, Daniel Lipšic and Roman Kvasnica, Lucia Ďuriš Nicholsonová, MEP, former investigator Lukáš Kyselica, Editor-in-Chief of the portal Aktuality.sk Peter Bárdy, investigative journalists Monika Tódová from Denník N, and Adam Valček from SME daily. František Oravec will share the experience of small farmers with the white-collar mafia. The conference will bring two days of papers and discussions aimed to strengthen democracy in Slovakia. It will also pay homage to Ján Kuciak and Martina Kušnírová and their legacy.
 For years, mafias have been growing roots across Europe. There is an absence of common legislation among the EU Member States that would make global fight on the mafias more effective. The effort is led by Italy which, after the multitude of murders and victims, including the deputy Pio La Torre and the Palermo Prefect Carlo Alberto Dalla Chiesa, adopted an Act on 13 September 1982, that introduced criminal punishment for criminal association with mafia- type organizations. Article 416 of the Italian Penal Code disabled a number of mafia organizations in Italy and Europe. Nonetheless, there remains a need for all-European cooperation and an anti-mafia legislation in Slovakia as well.