Conroy's Wake - Mewshaw's "The Lost Prince" review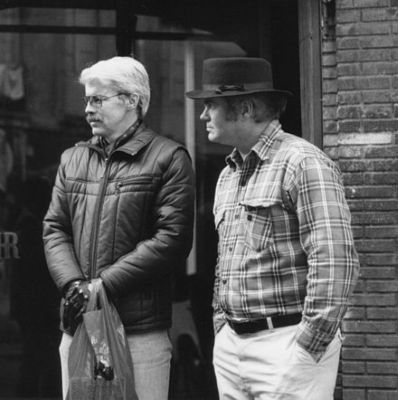 Pat Conroy (right) and Michael Mewshaw in Rome
 ROME -- Pat Conroy and Mike Mewshaw were great friends but it did not last.  Conroy was a best-selling novelist while Mewshaw is a talented but less successful novelist, memorialist and journalist.  Conroy never made that weigh and admired Mewshaw's writing.  Lonely on arrival in Rome in the early 1980s, Conroy rang Mewshaw asking for his friendship and they were great mates for the next 14 years.
 What went wrong?  When Pat fell out with his second wife Lenore, he felt that Mike sided with her and broke all contact with him.   Mewshaw claims that he did not side with Lenore.   It is difficult to see who was more at fault in the Pat–Lenore breakup as, unsurprisingly, each gave Mewshaw a plausible version of the reasons for the breakdown of their relationship.   Pat and Lenore cheated on each other.
 The next phase is clearer.  Pat asked Mike to reconcile with him his teenage daughter, Susannah, who was living separately.  This attempt revealed that Pat desperately wanted her love but, in the last resort, tried to obtain it by ultimatums and money offers.  They were partially reconciled.
 In Conroy's last six years he communicated with Mewshaw only by phone, letters or email but invited Mike to write about their relationship.   "It was uncanny how much we had in common" Mewshaw recalls "– a boyhood love of books and baseball, harsh Irish upbringings as military brats, abusive alcoholic parents, a deep amazement that we had survived early turmoil and our attempts to overcome it."
 They made fun of each other, travelled often with their wives and children through Europe, swapped anecdotes about their earlier dysfunctional families and their fear of becoming like their abusive parent, played tennis, bitched about editors, publishers, agents, the companies interested in making films of their novels and moaned about the cost of professional and personal legal battles.  We see both writers' ups and downs.
 Often things went better for them in Rome than in their periods back in America – indeed Rome itself is a major character.  Conroy and Mewshaw faced the usual expatriate dilemma: should they remain or return to their homeland? While Mewshaw's wife Linda was worried that their two sons could become misfits if they weren't educated in America, he still found Rome nourishing even during the terrorism era.
 Both Mewshaw and Conroy enjoyed its expatriate community, which felt liberated but also precarious, and the writers who passed through the city from Nora Ephron to William Styron.
 Styron, well on the way to alcoholism, was shocked that Gore Vidal, who had come to Rome partly to avoid the alcoholism of rival writers, was 'killing himself with alcohol'.  However Vidal was still alert enough to spot the difference between Mewshaw and Conroy, telling Mike that he was 'dry Irish' not only as regards alcoholic intake but also in personality and style, whereas Pat was 'wet Irish' lacking the self–control needed to handle his imminent huge success. 
 His novels such as 'The Prince of Tides' recreated the turmoil caused by a father who had abused his wife, Pat and six other children.  The novels seemed a fightback but then the father began sharing book launches with Pat as if there had been a reconciliation.  Was the abused acknowledging a kind of love by his abuser or, Mewshaw speculates, was it Pat's revenge to embrace his father as a 'defanged, declawed pet.'
 Mewshaw documents Conroy's last years in which his affection for others was hopelessly jumbled with verbal onslaughts on them.  He was overwhelmed by his emotions as by his success: Robert Lowell's 'You play against a sickness past your cure' in the epitaph is apt.  After bouts of depression, Conroy died from cancer in 2016.
 In this acute memoir Mewshaw captures Conroy's generosity, excess and self-destructive aspects while being baffled and bereaved at the breakdown of their friendship.  The Lost Prince is a moving wake by a writer who may have had less than he deserves for a friend who got more than he could handle.
   ---------
Michael Mewshaw will be talking about The Lost Prince at the John Cabot University, via della Lungara 233 from 6.30 to 8 pm on November 20.
The Lost Prince: A Search for Pat Conroy, by Michael Mewshaw is published by Counterpoint, 276 pages $US 26