Italia Viva assistant accused of being Mafia messenger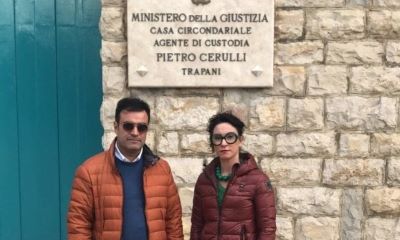 Antonello Nicosia and Pina Occhionero. Photo credit: La Repubblica
 PALERMO – A colleague of an Italia Viva MP has been detained on charges of carrying orders and messages from imprisoned mafiosi to the outside world, reports Il Fatto Quotidiano.
 Antonello Nicosia, 48, is a radical activist who has been working as a colleague of Italia Viva MP Pina Occhionero.  He has for many years been an advocate for prisoners' rights.
He has been detained along with four others as part of an inquiry conducted by the Palermo public prosecutor's office.  Nicosia is charged with offences of mafia association.
 The prosecutors' charges against him allege that he made use of Occhionero's visits and inspections of Sicilian prisons to act as a pathway between imprisoned mafia bosses and the clans still at liberty. 
 Occhionero, who was elected as a member of the leftwing LEU group but recently joined Matteo Renzi's new centrist party Italia Viva, was unaware of his actions but will be questioned as a witness, said judicial sources. 
 In wiretapped recordings cited in the detention warrant, Nicosia allegedly called fugitive Mafia boss Matteo Messina Denaro "the prime minister."  In relation to the dedication of Palermo airport to assassinated antimafia judges Giovanni Falcone and Paolo Borsellino he said "It was an accident at work."
 It is suggested that he also has connections to Messina Denaro.
 In February he held a meeting with a person trusted by Messina Denaro to discuss transferring money to the fugitive boss.
 He appears to have been particularly close to another Mafia boss, Accursio Dimino, 61.  La Stampa reports that Dimino had direct links to Messina Denaro, the mafia clans of Castellammare del Golfo, and the American mafia clans run by the Gambino family.
 Through Nicosia, Dimino was able to continue issuing orders from prison to mafiosi in both Italy and the United States, and they also discussed an assassination together, reported La Repubblica. 
 im