Divers clear up canal rubbish in Venice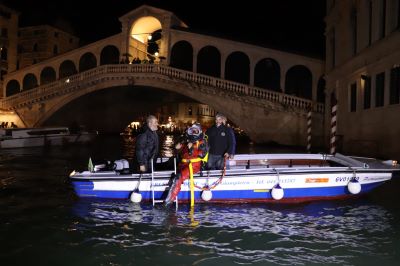 Photo credit: Comune di Venezia
 VENICE – The sixth outing of Venice's "submarine gondoliers," who clear up rubbish in the canals, took place between 6 p.m. and midnight on Sunday, said the town council.
 They have already collected over 2.5 tons of rubbish from canals in five separate operations between February and June.
 Sunday was the first time they had worked at night, said the council.  The dive took place outside the Pescheria fish market, on the Grand Canal.
 Venetian newspaper Il Gazzettino reported that there was one tense moment when a problem with a diver's breathing equipment meant he had to resurface, and he came up underneath a boat.  However, he was quickly helped by his colleagues to the shore, and does not appear to be suffering from any ill effects.
 Otherwise, the operation seems to have been a success.
 "In this way we repair damage caused by ourselves, giving an example to the whole community. A heartfelt thanks to the gondoliers, who will develop this project through five further outings that may perhaps induce a change to the behaviour of many people," said Giovanni Giusto, delegate councillor.
 The council and the Association of Gondoliers recently signed an agreement for a further six outings of which this is the first, said the council.
 From now until April, there will be one dive per month, said Stefano Vio and Alessandro Zuffi, gondoliers.
 "We begin this second series of dives in the Grand Canal itself, where we work every day and where we often find ourselves struggling with the rubbish floating on the surface," they said, noting also that they would be using professional materials including a helmet being tried out for the first time in Europe, provided by their sponsors to allow them to work in safety.
 im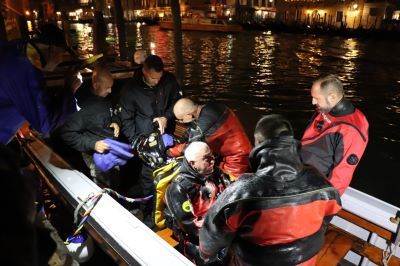 Photo credit: Comune di Venezia