Bad weather hits Italy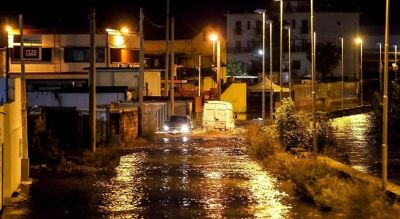 Photo credit: Il Messaggero
 ROME – A number of Italian cities were hit by bad weather over the weekend, including Rome, where a metro station remains closed and several roads are flooded or blocked by fallen trees.
 Liguria has also been seriously affected by rain and strong winds.  The rivers Petronio and Vara are in flood, reports Il Messaggero.  Several towns have taken emergency measures – in Sestri Levante, Liguria, residents have been asked to stay indoors by the mayor, Valentina Ghio.
 In Tuscany, the fire brigade have been called out dozens of times due to the heavy rain, said Il Fatto Quotidiano.
 Meanwhile, Campania has also suffered heavy rain and high winds: 100 families were evacuated Sunday as a precautionary measure in Nocera Inferiore, Salerno, said La Repubblica.  Schools in Nocera were closed Monday and in Sarno, travel through public parks where there are trees has been prohibited.
 im