Statues of Mary swapped in UK-Argentina exchange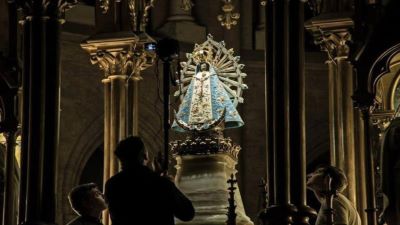 The original statue. Photo credit: Vatican News
 VATICAN CITY – Copies of an Argentinian statue of the Virgin Mary taken home by British troops after the Falklands War were blessed by Pope Francis and exchanged in St Peter's Square on Wednesday morning, reported Vatican News.
 When Argentinian troops invaded the Falkland Islands in April 1982, they brought a copy of the "Our Lady of Lujan" statue with them, which was left behind in a church in Port Stanley and picked up by the British.
 The original statue dates to 1630.
 Since then the copy has stood in the Catholic Military Cathedral of St Michael and St George in Aldershot, England, as a focus for prayer for all those killed in the war.
 Over 900 people were killed in the Falklands War between April and June 1982.
 After his installation as Bishop of the Forces in 2018, Paul Mason was contacted by his Argentinian counterpart, Bishop Santiago Olivera, to ask if the statue could be returned as a "gesture of reconciliation" reported Vatican News. 
 Bishop Olivera also offered a replica statue for Aldershot Cathedral.
 Bishop Mason having accepted the offer, it was arranged for the statues to be blessed by the Pope and exchanged during Wednesday's General Audience.
 Prior to the exchange, Bishop Mason commented that it was a "good opportunity... to demonstrate a communion in faith between two countries that have experienced political division" and that he "could not wait" for the event.
 im