Investigators question role of drugs in Rome murder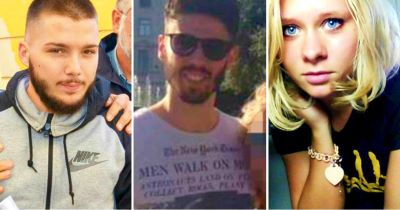 Valerio Del Grosso; Luca Sacchi; Anastasiya Kylemnyk. Photo credit: Il Fatto Quotidiano
 ROME – The alleged murderers of Luca Sacchi have been arrested as investigators examine whether drug dealing played a role in the homicide on Wednesday, judicial sources report.
 Luca Sacchi was shot in the head on Wednesday evening and died in hospital.
 The man who fired the gun has been named as Valerio Del Grosso by Corrado Capiello, preliminary investigations magistrate of Rome.  He and his companion Paolo Pirino, both 21-year-old Romans, have been arrested and charged with homicide.
 Pirino appears to have used a baseball bat to attack Sacchi and his girlfriend Anastasiya Kylemnyk, before the two took Kylemnyk's bag, reports the Corriere della Sera.
 It is suspected that drugs played a role in the incident, with an attempt to purchase drugs possibly preceding the shooting. 
 The transcripts of phone conversations are now being examined in an attempt to find out more, especially whether Sacchi and Kylemnyk had any previous contact with the network of drug pushers managed by Del Grosso.
 A man previously convicted of drugs offences, named as Giovanni Princi in the Corriere and described as a "close friend of Luca" and defined by some witnesses as the "contact" between the couple and the drugs pushers may also be investigated. 
 Capiello has noted that Del Grosso sent messengers to Princi to ask whether "people in the Tuscolana area had money to buy 'merchandise.'"
 Sacchi and Kylemnyk apparently met Princi in the John Cabot pub just before the incident.
 Kylemnyk had over 2,000 euros in her backpack, reports the Corriere della Sera, raising questions about whether she was buying drugs in order to sell them on.
 According to Il Messaggero, Del Grosso and Pirino did not have drugs with them, and Pirino, after his arrest, said that the intent was to steal from the couple.
 Questions are now being raised over whether the incident is part of a feud, says Il Messaggero, reporting that according to investigators, Sacchi and Kylemnyk may have been linked to people hostile to Del Grosso.  The carabinieri are trying to establish if Appio Latino, where the incident took place, has become a drugs "piazza."
 General prosecutor Giovanni Salvi, reported in the Corriere della Sera, commented that
 "The great quantity of drugs and the ease of the use of violence make the situation in Rome serious."  Judicial sources note that the extensive drugs business in Rome is worth 50 million euros a year, with areas such as San Basilio, San Lorenzo and even tourist destination Trastevere centres for the trade.
 im