Eighteenth-century wonder at Valadier exhibition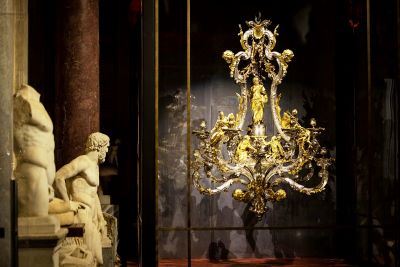 Photo credit: Alberto Novelli, Galleria Borghese
 ROME – Galleria Borghese's new exhibition, dedicated to eighteenth-century master metalworker Luigi Valadier, opens Wednesday with an astonishing collection of works in an array of styles.
 Valadier, born 1726 in Rome, inherited his father's silversmith business in 1759 and became the most famous Italian goldsmith, silversmith and bronze founder of his age.
 His work, and the objects on display here, range from religious articles to table services and statues of classical deities.
 The exhibition is described as having been inspired by Valadier's close relationship with the Borghese family – he produced a large number of artworks for them, and it was his work that characterised the renovations of the Villa and the Borghese's city palazzo.
 But the Galleria Borghese is also a fitting place for his work because only objects as lavishly ornate as those on display here – such as the huge silver lamps from Santiago de Compostela – could hope to compete with some of the most richly decorated rooms in Rome.
 The combination of Valadier's shining saints with the frescoes of gods on the ceilings and marble statues on the painted walls - not to mention the Bernini masterpieces of the permanent collection, still on display - might have been overwhelming if badly done.  However, curator and gallery director Anna Coliva clearly knows her job: the Valadier pieces are spaced out through a number of rooms, placed where they are complimented by the surroundings.  
 The approximately 90 Valadier works here are loaned from major international institutions and private collections, and represent a unique chance to appreciate his art.  The lamps from Santiago de Compostela, in Rome for the first time since 1764, are available to view at far greater proximity than they normally would be.  Bronze reproductions of ancient statues, made for European royalty and on loan from the Louvre, are another highlight.
 There are also smaller pieces executed with painstaking detail: candlesticks, coffee-cups, even spoons – Valadier seems to have been as comfortable creating small objects with a domestic scope as he was when working on the large scale for cathedrals.
 Meanwhile, his fascinating drawings allow us to see something of the planning stages, and representations of works now lost, such as parts of the Borghese gilt-silver service.
 This wide-ranging exhibition captures the artist well, allowing the visitor to see the multiple facets of his talent.  It captures also an age and a style, that of the rococo or Late Baroque: both in what he was asked to make and how he realised it, Valadier was clearly a man who reflected his time, but his work is no less beautiful and fascinating for that.
 Valadier: Splendour in 18th-Century Rome is at Galleria Borghese from Oct. 30 to Feb. 2 2020.  It is supported by Fendi and Intesa Sanpaolo, with a contribution from Fondazione Giulio e Giovanna Sacchetti.
 im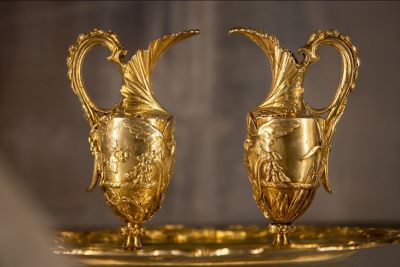 Photo credit: Alberto Novelli, Galleria Borghese