Amazon synod a reason for hope, say reform groups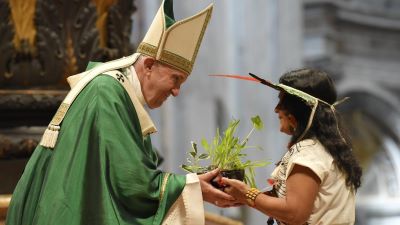 An indigenous woman hands Pope Francis a plant at the closing Mass of the Synod. Photo credit: Vatican Media
 VATICAN CITY – The Amazon Synod's conclusions have been taken as a cause for hope, say We Are Church reform group.
 The synod's conclusions were released Saturday night.  Bishops at the synod voted 128 to 41 to allow married men to join the priesthood in remote areas of the Amazon, where there is a grave lack of priests.  To come into effect, this change must be supported by Pope Francis, who is expected to make a statement soon.
 There was much speculation that the ban on female priests might be adapted in view of the need for more priests in the Amazon, but no definitive change has been made.  Instead, the synod asked for further consideration of the issue.
 Needless to say, both issues are highly controversial.
 The We Are Church group, committed to the reform of the Catholic Church, issued a statement saying that they saw "reason for hope" in the conclusions. 
 "Opening priesthood to married men is a step that could have significant ramifications for our global church. However, this is only a baby step when a great leap forward is needed. The failure of the all-male voting members of the Synod to recognize the ministry already being done by women, in the Amazon and across the world, by opening ordained ministries to them, is a perpetuation of the sexism and discrimination that are deep flaws in our church," said the group. 
 It also noted that the women present at the synod were not able to vote, and said that the insistence on ordaining only those of a "legitimately constituted and stable family" was a "transparent attempt to bar gay men from priesthood."
 The synod also focussed on environmental issues.  Cardinal Michael Czerny at the Synod's final press briefing said the current ecological crisis was so serious that "if we don't change we won't make it," reported Vatican News.
 im