Eternal City stops for general strike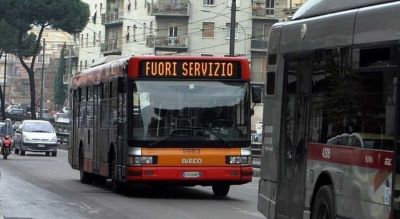 An ATAC bus, out of order. Photo credit: Il Messaggero
 ROME – The capital looked set to stop completely Friday, as the workers of various public services have walked out in the city's first ever general strike.
 Buses and rubbish collection are particularly affected, while one of Rome's three underground lines, Metro Line C, is completely shut.  Another, Metro Line A, is operating at a reduced service, says Atac, Rome's public transport company, which is posting regular updates on Twitter.
 In response to the strike, Mayor of Rome Virginia Raggi said on Twitter that "A minority of trade unionists are trying to hold hostage a city of three million inhabitants... the majority of citizens are tired of unjustified strikes."
 The move follows weeks of complaint about rubbish collections and buses in particular.
 In protest against the city's current administration led by Five Star Movement mayor Raggi, and the administration's budget assessor Gianni Lemmetti, all the companies owned by the municipality are going on strike.
 In total the companies represent at least 24,000 employees, each has serious problems with budgets.
 "It is a strike for Rome and it is not light-hearted. We are tired of living in degradation with poor services and employees who work in humiliating conditions, with violence against Atac and Ama operators," said CGIL.
 It is possible that schools will be closed, reports Il Fatto Quotidiano.
 Ama have told people not to expect rubbish collections on Friday.
 Air transport is also included in the strike.
 On Facebook, Raggi appealed to the unions to stop the strike "for the good of the city," an appeal which was ignored.
 im