Rome Film Fest hosts Rebibbia Festival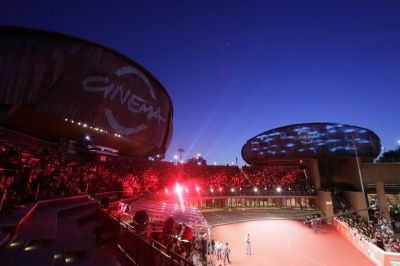 ROME - From Oct 21 to 27, as it does every year, Rome Film Fest hosts the Rebibbia Festival, featuring screenings, talks, and workshops for the inmates of the Roman prison.  All are held in two venues: the Auditorium at Rebibbia Prison itself and the Auditorium at the MAXXI Museum.
 The first event takes place on October 21, at 5:30 p.m. at the MAXXI auditorium. It is a discussion on the theme "Italian Cinema Looks at Prison, 1955- 2019". During the event, moderated by Mario Sesti and featuring Giuliano Amato (Constitutional Court judge), Carmelo Cantone (Superintendent of the Lazio Penitentiaries), and Fabio Cavalli (filmmaker), short clips from famous Italian films will be shown. 
 The films include Accadde al penitenziario by Giorgio Bianchi (1955), starring Aldo Fabrizi as a prison guard; Detenuto in attesa di giudizio by Nanni Loy, Forever Mary by Marco Risi, and Caesar Must Die by the Taviani brothers; up to this year's Viaggio in Italia: la Corte Costituzionale nelle Carceri by Fabio Cavalli. Giuliano Amato will report on his meeting with young inmates convicted of camorra-related crimes, doing time on the "Prison Island" Nisida.  Admission is free.
 On Oct 24, at 4:00 p.m., the Rebibbia Auditorium plays host to the European premiere of the documentary made by the Franco-German television channel ARTE, Prison de Rebibbia. L'évasion par le théâtre, directed by Marie David. The film is based on the play Istruzioni di volo by Laura Andreini Salerno, starring the actor-inmates of Rebibbia Prison (produced by Hikari Corporate). The director and entire cast will be on hand (PREXIT Social Inclusion Project, Lazio Region).
 At 4:00 p.m. on Oct 27 in the Rebibbia Auditorium, the President of the Constitutional Court Giorgio Lattanzi will be meeting with male and female inmates on the occasion of the screening of Viaggio in Italia: la Corte Costituzionale nelle Carceri by Fabio Cavalli, produced by Clipper Media with Rai Cinema. The screening is reserved for inmates, many of whom appear in the film itself.
 Rebibbia Festival is promoted by La Ribalta – Centro Studi Enrico Maria Salerno, Fondazione Cinema per Roma, and Regional Superintendency of Lazio Penitentiaries, with the support of MiBACT and Lazio Region. In collaboration with Rai Cinema, Clipper Media, and Hikari Corporate (Fr.), with the Franco-German TV channel ARTE. Many thanks to the Constitutional Court for its participation.