Conservative Catholics throw statues of goddess into Tiber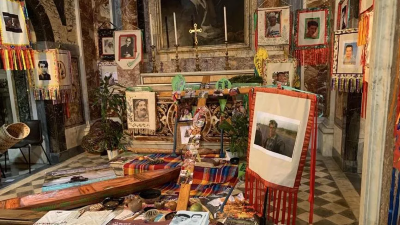 The side chapel with the statues removed. Photo credit: La Stampa
 ROME – Statues of a South American goddess have been removed from a Roman church and thrown in the Tiber by conservatives in protest, according to Il Messaggero.
 The wooden statues of Pachamama, a pregnant female divinity, were on display in a side chapel of Santa Maria in Traspontina, near Vatican City.  A number of objects from the Amazon were there, brought by indigenous people participating in the Synod for the Amazon currently taking place in the Vatican. 
 Il Messaggero reports that the statues, presented as a gift to the Pope, were stolen late Monday night and early next morning thrown into the River Tiber.  This appears to have been coordinated so that the river would carry them as far away from the Vatican as possible.
 Those responsible, thought to be conservative Catholics, filmed it all on a mobile phone and broadcast the video on social media.
 Paolo Ruffini, Prefect of the Vatican Department for Communication, commented that "I can only say that stealing something from a place, especially a sacred one, is a stunt, a senseless gesture, which contradicts the spirit of dialogue which should always animate everyone."
 im