New Brexit deal would have little immediate impact on Italy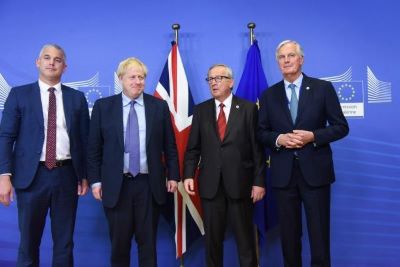 Stephen Barclay, Boris Johnson, Jean-Claude Juncker, Michel Barnier, photo credit: European Union
 ROME - If the House of Commons does vote through Boris Johnson's deal, the impact on Italy and Italians will be felt only slowly, Il Messaggero reports.
 It was announced Thursday that Johnson and the EU have found an agreement that will be implemented if the Commons agrees.  This includes a transition period until the end of 2020, during which the UK would still follow EU directives and not impose any customs.
 For six months, European passports or identity cards would still be sufficient documentation to travel to Britain.
 Italians studying in the UK, who do not currently pay full international fees for university, will probably see their tuition costs increase.  However, this is unlikely to happen immediately.
 Britain's anxiety to ensure that London remains a world financial capital means that little will change for Italian business operating in the City, says Il Messaggero.
 It appears that Brexit has not affected Britain's consumption of Italian products – over 23 million euros' worth were imported in 2018.  Il Messaggero reports that this may be the result of British firms stockpiling Italian goods in case of a difficult Brexit.
 However, it is not at all certain that Johnson's deal will be accepted by the Commons, in which case Britain could still be heading toward a no-deal Brexit on Oct. 31.
 im