Gauzzi Broccoletti new Vatican gendarmerie commandant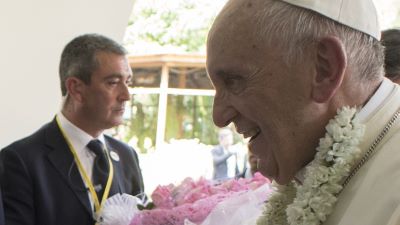 Pope Francis with Gianluca Gauzzi Broccoletti. Photo credit: Vatican News
 VATICAN CITY – As expected, the new Commandant of the Vatican gendarmerie is Gianluca Gauzzi Broccoletti, a cyber-security expert.  
 Vice Commandant since Dec. 2018, Gauzzi Broccoletti had previously carried out many of the investigations into the "Vatileaks" scandals.
 He follows Commandant Domenico Giani, who handed in his resignation on Monday.
 Speculation continues on the circumstances of Giani's resignation.
 American newspaper National Catholic Register has reported that there was some surprise that Giani had kept his job for so long, and quoted an "informed source" as saying that:
 "The reason why he has resigned is fake… They could not find a good reason to dismiss him, they did not want to disclose the internal reasons for doing so, and so used this story as an easy instrument to get him out."
 The paper also cited anonymous sources as suggesting that Giani's departure was linked to his resistance in dealing with corruption and his close alliances with the conservative factions of the Vatican.
 Robert Moynihan reported Monday that the resignation was really a "dismissal" and that Giani was seen as responsible within the Vatican for a level of surveillance regarded as oppressive.
 Vatican News reports that Pope Francis paid a personal visit to Giani's family on Tuesday, to tell his wife and daughter how much Giani's work had been appreciated.
 im