Head of Vatican gendarmerie resigns over leaked document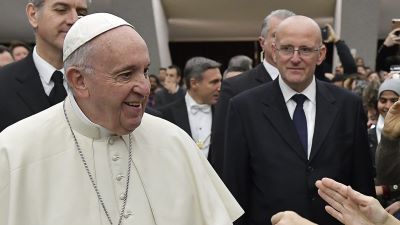 Domenico Giani with Pope Francis. Photo credit: Vatican News
 VATICAN CITY – Domenico Giani, commander of the Vatican gendarmerie, resigned Monday after a confidential document was leaked, say Vatican sources.
 The document, meant only for Vatican use, was signed by Giani.  It included photographs and names of five people currently suspected of financial misconduct and affected by the recent seizure of documents from the Vatican's Financial Information Authority.  It was published in several newspapers.
 Giani resigned despite not having any personal involvement in the affair, said the Vatican Press Office.
 Robert Moynihan, conversely, asserts that the resignation was really a "dismissal – for Giani understood that he was being ordered to submit his resignation letter." 
 Moynihan reported that one Vatican observer had told him that "the general atmosphere in the Vatican today is marked by a sort of tension" and a feeling of being constantly "under observation" through cameras and electronic surveillance, a change being blamed on Giani – but that this does not explain the dismissal now, whether he was acting under orders or had introduced these changes over time on his own initiative.
 Il Fatto Quotidiano reported Sunday that an investigation into the origins of the leak has already begun.  According to Matteo Bruni, head of the Holy See's Press Room, Pope Francis compared the gravity of the leak to that of a mortal sin because it compromised the dignity of the people involved, and the presumption of their innocence.
 Cardinal Angelo Becciu said Sunday: "We do not know who released the document, but I express my regret because I am finding that the sense of belonging and loyalty is failing within the Vatican."
 La Stampa reports that Giani may be replaced by his Vice Commandant, Gianluca Gauzzi Broccoletti.
 im