Sport: How medicine sacrificed a generation of cyclists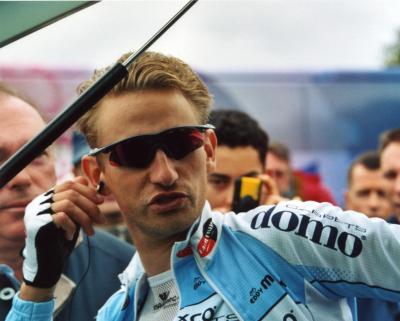 Frank Vandenbroucke. Photo: Wikipedia
 BRUSSELS -- This year's edition of the Tour de France illustrated the impact of Ketones, a performance-enhancing drug which is legal but whose side effects are not yet known. What road did cycling take to reach this point?
At the town of Saly, exactly 10 years ago  on Oct. 12, 2009, the Belgian cyclist Frank Vandenbroucke, 34, died in a hotel room. Police officers found beside his bed insulin, sleeping pills and tranquilisers. Because of the needle marks on Vandenbroucke's left arm the pathologist considered the case that of a drug addict.
  The international media compared Vandenbroucke's death to that of Marco Pantani, five years earlier. Like Vandenbroucke, Pantani had died at 34, alone, in a hotel room. He also had taken tranquilisers. Both men belonged to the same generation of cyclists and -in the very same years- had won races in the most memorable way.
 At the 1993 World Championship, where Vandenbroucke had won the Bronze medal, the "Gazetta dello Sport" baptised the 19-year-old blond "il bimbo d'oro". He prematurely became a professional cyclist when he signed with the Belgian Lotto team. Lotto was managed by his uncle and employed his father as a mechanic. Risking a family row, he soon moved to Mapei. The Belgo-Italian Mapei team was the world's best. Its manager was Patrick Lefevere. Moreover, whereas other teams employed "soigneurs" -assistants responsible for food and massage- Mapei had a medical doctor.
 In 1999, Vandenbroucke signed with Cofidis, a French team. He would not only earn a stellar salary, but also have full control: he could pick his helpers and his doctor. The cocky 25 year-old behaved as if he were the team manager. Cofidis' investment nonetheless seemed to pay off: its captain won one race after another. He even predicted on TV he would the next day win Liège-Bastogne-Liège, the oldest of all classics. And so he did. After two spectacular wins in the "Vuelta a España", the Spanish ONCE team offered double his wage. At the end of the season, he was Number 1 on the UCI ("Union Cycliste Internationale") ranking. All experts agreed: Frank Vandenbroucke's career would eclipse that of every other cyclist, ever.
 Barely four days after his epic victory in Liège-Bastogne-Liège, however, the Belgian authorities searched the home of the race's official doctor. Georges Mouton, a former athlete himself, also consulted the Lotto, Mapei and Cofidis teams. The peloton nicknamed him "Docteur Syringue". Frank Vandenbroucke was one of his patients.
 Two week later, French authorities arrested Bernard Sainz, a self-proclaimed doctor who had made a fortune in horseracing. A former cyclist, he had counselled the greatest of cyclists as well as other sports stars. In the past, Sainz had been implicated in two investigations on the use of amphetamines. This time, the authorities interrogated several cyclists, among which Vandenbroucke. While Sainz would be convicted for illegally practicing medicine and was forbidden to further contact sportsmen, VDB's urine sample seemed to contain traces of amphetamine.
 The Sainz case had seriously damaged Vandenbroucke's reputation. His team suspended him. By day, he sought refuge in his parents' place. At night, he partied in the North of France. He crashed several cars and temporarily lost his driving licence. When he left his hometown girlfriend, whom he was to marry and whom he had a small daughter with, for an Italian fashion model, he suddenly no longer had a home: his former girlfriend and daughter were living in with his parents. He told his mother to sell the mansion he was having built and adopted an errant lifestyle -incompatible with the stability a cyclist needs. By 2001, Frank Vandenbroucke had reached the bottom. Or, at least what everybody thought would be the bottom.
 Amphetamines are the main ingredient of what up until the end of the last century was cycling's most popular performance-enhancing drug -- "pot belge", an artisanal mix of amphetamine, cocaine and heroin. Yet on July 8th 1998, just before the start of the Tour de France, French police inspected the car of the Festina team. In his car, the police found next to amphetamines, growth hormones, testosterone and corticoids also erythropoietin (EPO). During the Tour de France, the police would discover more than hundred EPO ampules in a car of another team.
 EPO is a hormone. It stimulates the production of red blood cells, allowing for a larger volume of oxygen in the blood -utmost important in endurance sports. Although the product is banned since the early 1990s, a full test was not available until 2000. Because EPO thickens the blood, it increases the risk of clotting, strokes and thrombosis.
 With the help of a psychologist, Vandenbroucke prepared a comeback. He returned to Patrick Lefevere's team and booked strong performances. Yet, on February 27th 2002, the Belgian police pulled over Bernard Sainz' car. The trunk contained several substances. Sainz told the police he had visited Frank Vandenbroucke. In Vandenbrouckes's home the police then discovered in a dusty box mainly old, expired substances among which first-generation EPO. His team laid him off and erased him from the team picture. The Belgian Cycling Federation prohibited him from racing for half a year. José De Cauwer, manager of the Belgian national team predicted: "This probably is the end of his career."
 But above all, the Belgian authorities initiated a court case that would not close until after his decease. They wanted to make an example of Vandenbroucke. They treated a sportsman like a heavy criminal demanding a 20-year prison sentence. VDB did not sleep the night before the trial. His psychologist, who stayed with him all night, said: "Never have I seen anyone so afraid." In the court hallway, TV crews were given plenty of opportunity to shoot a handcuffed cyclist. It humiliated Vandenbroucke and was, according to his psychologist, a humiliation he never got over.
 Nevertheless, in 2003 he tried a second comeback. He finished fourth in "Omloop Het Volk". In order to celebrate the team's success -the team's leading man had won the race- Vandenbroucke and Belgian cycling's latest prodigy, Tom Boonen, finished hand-in-hand. A week later, Vandenbroucke finished second in "Ronde van Vlaanderen", one of the four so-called "Monuments" in cycling. For the second time in his career, he finished second in the one race he absolutely wanted to win. Fans had written "God is back" on the road. Flamboyant and outspoken Vandenbroucke became "VDB".
 But after the race his team manager blamed him for not having attacked sufficiently. And the rumour that he would have sold the race because he and his trophy wife had to live on a lower wage created tension within the team -when a rider sells a race, he is supposed to share the money with his team mates.
 In 2004, VDB joined Italian Fassa Bortolo, the world's strongest team. Manager Giancarlo Ferretti took no risk and offered VDB a one-year, performance-based contract. VDB booked performances 95% of the peloton would be more than happy with. But he did not win a race. It appeared the hedonism of the Italian fashion world he frequented was not compatible with the ascetism his sport demands. On April 29th, an employee of VDB's manager visited VDB's home. Together with a friend who had a spare key, they entered the house and found Vandenbroucke lying on the sofa, an injection needle beside him. He had taken an overdose of Actrapid. The duo called a doctor. A hurried glucose injection avoided the worst. Three months later, on July 24th, after his wife had announced she would leave him, VDB made the headlines with a highly dramatic suicide attempt involving a hunting rifle.
 The same year, a psychiatrist published a study on the effects of the use of sleeping pills in the peloton. French sports newspaper "L'Equipe" soon revealed the study had been ordered by Cofidis. According to the study, professional cyclists suffer from, what the author calls, the "holiday package deal" syndrome: they are always on the move from one anonymous hotel room to another. Professional sportsmen develop a dependency on drugs that is comparable to that of a junkie. A French Cofidis cyclist had introduced Vandenbroucke to sleeping pills. Not to sleep, but to party: pulverised and mixed with alcohol, the highly-addictive medicine provokes hallucinations. The remarkable thing is that these cyclists never touched alcohol or drugs in their youth. Now, perfectionists like Vandenbroucke and Pantani were ruining their bodies.
 In the 2004 edition of the "Flèche Wallonne", one of the world's toughest races which traditionally ends on an excruciating hill, VDB finished seventh after winner Davide Rebellin. All six riders who finished before Vandenbroucke would in a later stage of their career be suspended for doping. And so would the three who finished after him and completed the top ten.
 Meanwhile, French police were monitoring a ring of 23 (former) riders and soigneurs who were using and/or selling "pot belge". Among them were the Roux brothers. Laurent Roux (1972) had already been caught with amphetamines in the 1999 edition of the "Flèche Wallonne". During the trial that took place in 2005 he testified: "The greatest riders used things that I could not afford. They bought other things, like synthetic haemoglobin and blood transfusions."
 A couple of days later, Rebellin would also win "Liège Bastogne Liège". Vandenbroucke himself ended sixteenth, and as many seconds, after Rebellin. Cycling had moved on; VDB had become a relic. Also every cyclist of this race's top ten would eventually be suspended, at least seven of them because of a new type of doping. And at least four of these were patients of the same doctor: Eufemiano Fuentes.
 On May 23, 2006, Spanish police discovered in a Madrid laboratory 211 bags of frozen blood marked with codenames. The police officers arrested several members of the Liberty Seguros-Würth team, among them Doctor Fuentes. Fuentes was treating a scale of athletes and had been practicing blood doping as of 2002.
 Blood transfusions are to increase the amount of oxygen-carrying red blood cells. Usually, the athlete's own blood is used. Reinjecting enhanced blood in the athletes' body should be done at precise times, before an exploit. During major races like the Tour de France and "Giro d'Italia", Fuentes and his team performed the injections in hotel rooms following a set calendar. Blood doping was originally legal. EPO replaced the practice when it became illegal. But when EPO could be traced, blood doping resurged.
 In 2006, VDB and his wife were staying at Davide Posca's in Italy. Doctor-pharmacist Posca would figure in several doping affairs. A year later, VDB and Bernard Sainz did a double interview in Sainz' Normandy castle. Cyclists and their teams spend a lot of money on doctors -Michele Ferrari received more than a million dollars from Lance Armstrong. But it seems the medics use their patients as guinea pigs. Some of the products they prescribe have been developed for animals. Fuentes and his team would carry blood in bags with frozen cans of soft drink. Cyclist Jesús Manolo, who triggered "Operación Puerto", detailed that he was injected 125 ml of blood from a sachet that did not carry his, or any other, name. He began to feel very bad. He started to shiver. He felt very cold. "If they'd put in half a litre, I would have gone home in a box."
 Midwinter 2007, the Italian police stopped VDB at night in the mountains on his bike wearing a cycling outfit. They wanted to escort him home, but he did not have one. He was all on his own. At a race, the perfectionist who always selected his gear meticulously, showed up with a bicycle frame without wheels or steer. He asked a soigneur if he could have halve of the spaghetti that was meant for the man's son. In an interview with "Gazzetta dello Sport", when asked whether he sometimes thinks about the fate of the late Pantani, Vandenbroucke had answered: "I do not run that risk. What keeps me going is my family." But the boyish face of the ever optimistic cyclist had been replaced by the grimace of the cocaine junkie. On June 6th 2007, after his wife finally pushed through a divorce, VDB did another suicide attempt. Back in Belgium, VDB's parents decided to check him in a psychiatric hospital. After the treatment, he stayed with his parents until they showed him the door. The man who once was the peloton's best-paid cyclist, owning a colossal estate with a 1hectare fishing pool and property abroad, had become homeless.
 Laurent Roux explained that doping was merely the consequence of "an enormous pressure" on cyclists on behalf of sports directors and sponsors. Teams offer cyclists short-term contracts and contract renewal depends on one's UCI ranking. In order to be exempted of a race he did not feel 100 percent prepared for, VDB once smashed his hand with a hammer. "It is quite telling," his psychologist remarked, "that a man who knows every single muscle of his body resorts to such an act."
 One of the psychological effects of clenbuterol, found at VDB's home, is anxiety. EPO, on the contrary, reduces anxiety, yet an increase in anxiety is one of its withdrawal symptoms. Doping is a "one-way street", the father of Dario Frigo (1973), a former teammate of VDB, wrote in an open letter. Marco Pantani's helper, Valentino Fois (1973), died at the same age as Pantani and Vandenbroucke and, like the latter, of an emboly. He had been taking anti-depressants with alcohol. Pantani's main competitor, José María Jíménez (1971), died in a psychiatric hospital.
 These cyclists excelled in their profession. Their success made them famous. But doping disgraced their performances and tarnished their reputation. In vain, they try to get their dignity back. Following the large doping cases Festina, "Operación Puerto", US Postal,…-, many a (former) cyclist published his story. But by doing so, they broke the peloton's "omertà".Cycling is a sport which, after each doping case, pretends the case was that of an individual and that the sport itself is clean.VDB's former teammate, Robert Sassone (1978), committed suicide because of a doping case.
 Drugs ruined these men's lives, in particular their relationship with their next of kind. Vandenbroucke's marital problems started with him blaming his wife for not hiding that dusty box. "Margaux has witnessed scenes a five year-old should not see," said Vandenbroucke's former wife, who later would not attend his funeral. Steve De Wolf, his childhood friend, training partner and team mate, took distance when VDB started taking Stilnoct. So did the team who worked on his first and second comeback.
 Frank Vandenbroucke died ten years after his "annus mirabilis". Nearly 35, he was in the dawn of his career. The promise had not been fulfilled. Icarus had burned his wings.
 Early 2009, it seemed he finally had a grip on his life. His ex-wife had agreed he could see their daughter once a month. He booked a victory, his first in a UCI race in five years, at a time trial in the "Boucle d'Artois". This, however, would be his swan song. An Irish stage race informed Cinelli's team manager his team would be welcome, but VDB not. The organisation considered VDB a "potential hazard to the race's image" and feared it might lose a sponsor. Already in March 2008 the UCI had given the small Cinelli team a wildcard to participate in races provided the team would not select VDB. Frank Vandenbroucke had become a persona non grata to the UCI as well as the Belgian Cycling Federation. When in August he wanted to participate in the Belgian time-trial championship, he appeared not to have the appropriate licence. In September it looked like, for the first time since he had become a professional cyclist in 1993, he would not have a team or an UCI license. He would no longer be able to do the only thing he wanted to do since the day he had learned to ride a bike. In order to change his opponents' mind, he announced he would publish his blood tests online.
 When Frank Vandenbroucke left for a short holiday in Saly, he knew that, on Oct. 21, there would be another court hearing -number 14. Again, the authorities demanded a prison sentence.
 jp-md