Alleged lover denies affair with WFP honcho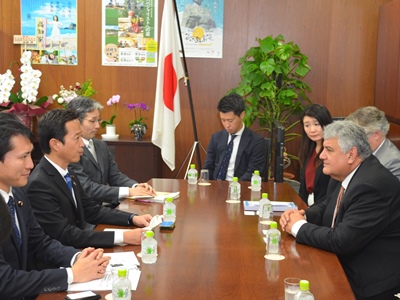 WFP DED Amir Abdulla (right) with Japanese officials. Photo: MAFF Japan
  ROME -- The WFP woman employee accused by the wife of WFP Deputy Executive Director Amir Abdulla of being his lover has strongly denied ever having had an affair with the powerful Sudanese potentate.
 "It was not true," the young lady, who asked not to be identified, told the Italian Insider. "These days anyone can write anything in an email." 
  Mrs Abdulla named her alleged rival in an irate email to members of the august United Nations book club in Rome as long as five years ago and it was widely circulated at the UN agency.
 The email turned out to have a long shelf life after a recipient interviewed in an external review of ethics at WFP was quoted as referring to it in the review.
 Supporters of the pasha claim that his enemies in the agency had the reference to the email added deliberately.
WFP DED Amir Abdulla with staff members