Number of parliamentary deputies cut in landslide vote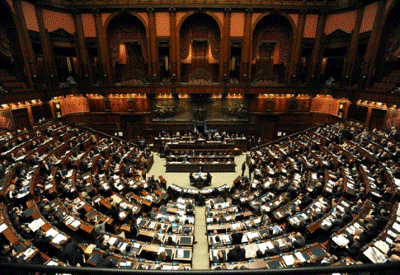 ROME – A cut to the numbers of parliamentary deputies in Italy will pass into law following a landslide vote in favour in the Chamber of Deputies.
 The votes came in at 553 for, 14 against and 2 abstained.  The change will reduce the number of deputies from 630 to 400, and the number of senators from 315 to 200.
 Political sources report that the change was especially welcomed by the Five Star Movement, who burst into applause.
 "A historic reform, a very great victory for the Italian citizenry," said Luigi Di Maio, foreign minister and leader of the Five Star Movement, in the Chamber.
 Prime Minister Giuseppe Conte, writing on Twitter, described the reform as a "historic day" which would "cut the costs of politics and make the functioning of the Chambers more efficient.  A concrete step to reform our institutions."
 The vote represents a change of policy for the Democratic Party, who have voted against the motion to reduce the number of parliamentary deputies on three previous occasions, reports Il Fatto Quotidiano.
 Nicola Zingaretti, leader of the Democratic Party, explained the change of policy was to be in accordance with the first commitment of the government's programme, and because the reduction now
 "fits into a framework of institutional and constitutional guarantees that were not there before."
 im