WFP chief slams rogue directors for 'abuse of power'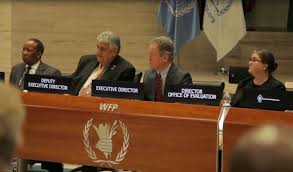 Fun-loving; WFP DED Amir Abdulla (second left) with ED David Beasley (centre right) PHOTO CREDIT. WFP
ROME – WFP Executive Director David Beasley has told directors of the UN agency to drop a petition they began circulating in support of beleaguered Deputy Director Amir 'Pasha' Abdulla, telling them that it was an 'abuse of power' to intimidate staff into signing the dubious document.
 Mr Beasley told the directors from the old guard of the Rome-based poverty-busting agency that they should come to him if they were disgruntled over speculation that Abdulla might face investigation for alleged sexual harassment after four women members of staff stepped forward and accused the Sudanese potentate of coercing them into having sex at the office.
 "The ED told the directors that his door is always open to them, that they can come to him any time if they have issues to discuss that are bothering them," a senior aide to the ED told the Insider.
 "But it is not acceptable to wander around the buildings at headquarters intimidating staff into signing a petition. The ED views that as a serious abuse of their power that will not be tolerated."
 The old guard at the WFP have been truculent since Insider disclosed that fun-loving Abdulla is referred to obliquely in a review of ethics and sexual harassment at the agency.
 Seeking to calm a growing storm at the troubled agency, Mr Beasley told staff in a memo that the DED was not mentioned in the outside review and that no investigation against him had been initiated.
 Nevertheless the review does quote a respondent referring to Abdulla's wife writing an email to WFP book club members lamenting her husband's alleged infidelities. The email was widely circulated at WFP.
 While no investigation has been formally initiated against the DED the four women members of staff, mostly Italians, have made complaints about their alleged experiences with the pasha that are being processed by the IG department before it is decided whether to open a formal investigation, senior WFP sources told the Insider.
 jp