AS Roma in World Cup deal with Qatar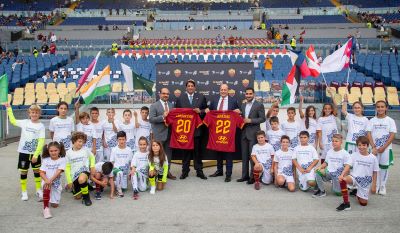 ROME - AS Roma has teamed up with World Cup hosts Qatar to develop football in Italy at grassroots level in a four-year partnership.
 More than 100 children attended Stadio Olympico for the club's 4-2 victory over Sassuolo earlier this month, when the announcement of the deal was made.
 It will see Roma joining Qatar's 'Generation Amazing' programme which has so far helped 500,000 disadvantaged people around the world as part of the country's World Cup legacy.
 Last year the Serie A club announced a €40million sponsorship deal with Qatar Airways, the largest it had ever signed.
 Generation Amazing aims to use football to positively impact lives in poor areas, whether it be refugee camps in Jordan or the slums of India.
 It has involved building football pitches on waste ground and sending in soccer ambassadors to train local children how to be coaches.
 Mauro Baldissoni, AS Roma Vice President, said: 'We have been very impressed by the incredible work Generation Amazing has been doing around the world and we believe that through this partnership, with Roma's full support and expertise in youth coaching, we can use sport for good in Italy, Qatar, Nepal, Pakistan, Jordan, the Lebanon, the Philippines, India and many more countries over the next four years'.
 Fans at the stadium were shown a video of what's happening across the world and the two organisations have agreed a digital and social media tie-up.
 Generation Amazing Executive Director Mushtaq Al Waeli said: 'We're thrilled to join hands with AS Roma in our mission to bring this exciting football development programme to children in Italy and youth across the world.
 'We share a joint belief in using the power of football to improve lives and build communities, and are looking forward to an important partnership with AS Roma.
 'Through football we teach life values like gender equality, tolerance, respect and communication, which help to create an inclusive generation.'
 Both sides will be working together on projects in Rome as well as other cities in Qatar, the Middle East and Asia.
 'The principle of football as a driver of social change is a vital principle in every project we engage in relating to the 2022 World Cup,' said Hassan Al Thawadi, Secretary General of Doha's Supreme Committee. 'AS Roma is an institution rich in history and renowned for its social awareness.
 'Generation Amazing and AS Roma will work closely to ensure the values we share affect communities positively and integrate football into wider initiatives focused on development'.
 ANTHONY HARWOOD